McLaren brings new diffuser to Spain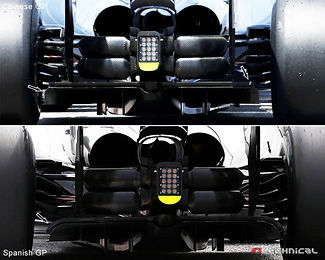 McLaren have fitted a brand new rear diffuser to its two MP4-29's, featuring more rounded profiles on each outer extremity, following an aerodynamic trend that was started by Red Bull Racing during the winter tests. Along the rounded edges is an additional winglet that previously used to be only as wide as the horizontal upper edge of the diffuser. The change will particularly help air extraction at each side of the diffuser, allowing for more expansion into the wake of the rear tyres.
Along with the modifications are different winglets in the rear wheel brake duct area, an update working in combination with the new diffuser.
While it may improve the car itself, the updates surely didn't bring much additional performance compared to others with Button qualifying 8th in Spain following continued complaints of a lack of downforce and grip.