Toro Rosso adds S-duct in new nose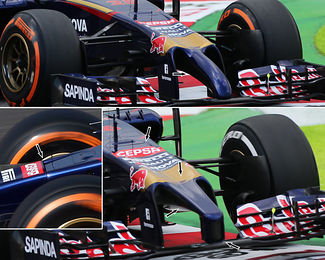 Toro Rosso have come to Japan with a new nose cone on their STR9, which notably also included an S-duct inspired by Red Bull Racing. The car's new nose is much thinner on the lower side, now featuring a short bulb at the very front to meet the regulations while minimizing the obstruction to airflow underneath the nose cone. The previous 'finger nose' was much thicker and was an essential part of the front crash structure, whereas the new one has its crash structure starting further back.
While the introduction of this nose cone was originally planned for the Singapore GP, the design is a remarkable effort, knowing that none of this development will be transferable onto next year's car, due to the modified regulations that aim to prevent these nose extensions.
The S-duct on the other hand may very well provide the team with useful information for its 2015 development programme, as nothing in the rules prevents any such duct this year or the next. The S-duct, named for the shape of the duct inside the nose cone, bleeds some air off the boundary layer on the lower side of the nose and directs it to a vent on the upper side. In Toro Rosso's case, the vent is noticeable exaxtly behind the 'Cepsa' sponsorship logo.