Scuderia Toro Rosso STR9 Renault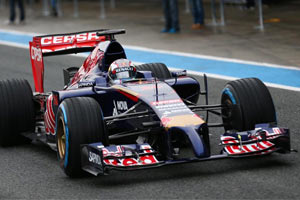 Active: 2014
Team: Scuderia Toro Rosso

Team: Franz Tost (TP), James Key (TD), Steve Nielsen (SD), Laurent Mekies (Head of Vehicle Performance), Luca Furbatto (CD), Phil Charles (CE), Brendan Gilhome (HA)
Drivers: Jean-Eric Vergne (25), Daniil Kvyat (26)
The STR9 is essentially the first Toro Rosso designed under the lead of James Key, the team's technical director who joined from Sauber in September 2012. Key worked mainly on the aerodynamics side, as that was an area that needed much improvement. This also included the arrival of Brendan Gilhome in Bicester, the team's base in England for aerodynamic development.
"It's grown significantly", Key said at the time of the launch. "We now have many new people with very relevant F1 experience. We have more people joining us this year too, so I would describe it as a work in progress, but the group is developing very well and becoming increasingly close to the blueprint that we have in mind of what an aero department of a team of this size and budget needs to be. We're still getting there but it's certainly heading in the right direction. It's been a big project, helped by the arrival of a new head of Aerodynamics in Bicester, Brendan Gilhome last June, while we worked on 2014 without neglecting the task of making the most of the 2013 car as well. It's still going on but it's developing very much in the direction it needs to be right now and we're making good progress."
Apart from the mandatory switch of engine architecture, the car is also the first Toro Rosso ever to be powered by a Renault engine, trying to have more similarities in design with sister team Red Bull Racing. The team also continued to use the gearbox internals of Red Bull Technology even though the team housed them in a self designed aluminium alloy box.
As other teams, Toro Rosso faced a major challenge of integrating the ERS system and turbocharger, providing enough cooling for the entire system without compromising the aerodynamics.
Chief designer Luca Furbatto said: "In 2014 the hybrid proportion is much more significant and therefore it generates more heat, that needs to be cooled too. Furthermore, using a turbocharger means the engine requires intercoolers, which we haven't had on F1 cars since the mid-80s. Certainly, the radiator layout plays an important role in the overall car layout and we had a few moving targets during the design phase, which means we ended up sizing 17 different layouts for cooling on STR9 and eventually committing to just one!".
See more at the technical analysis of the STR9 at the launch.
The STR9 had its shakedown at Misano, Italy on 24 January, ahead of its public launch and debut at 28 January at Circuito de Jerez, Spain. The car did however suffer several reliability issues in its first 4 days of testing, similar to the Red Bull RB10.
Specifications
Chassis: Composite monocoque structure
Front suspension: Upper and lower carbon wishbones, pushrod, torsion bar springs, central damper and Anti roll bars, Multimatic/Penske dampers
Rear suspension: Upper and lower carbon wishbones, pullrod, torsion bar springs, central damper and anti roll bars, Multimatic/Penske dampers
Steering: Power assisted rack and pinion
Bellhousing: Carbon fibre composite
Hydraulic system: RedBull Technology
Exhaust: Scuderia Toro Rosso, Inconel, with turbo heatshield
Brake callipers: Brembo
Brake pads and discs: Brembo
Brake By Wire: Scuderia Toro Rosso
Cooling system: Scuderia Toro Rosso.
Cockpit instrumentation: Scuderia Toro Rosso
Steering wheel: Scuderia Toro Rosso
Electronics: FIA standard ECU and FIA homologated electronic and electrical system
Driver's seat: Carbon fibre construction, moulded to driver's shape
Seat belts: OMP/Sabelt
Pedals: Scuderia Toro Rosso
Extinguisher system: Scuderia Toro Rosso/FEV
Wheels: Apptech, Magnesium alloy
Tyres: Pirelli
Fuel system: ATL tank with Scuderia Toro Rosso internals
Bodywork material: Carbon fibre composite
Overall weight: 691 kg (including driver and camera, excluding fuel)
Transmission
Gearbox: Hydraulically operated, 8-speed sequential, provided by RedBull Technology, aluminium alloy maincase by Scuderia Toro Rosso.
Clutch: AP Racing, carbon plates, pull-type
Powertrain
Designation: Renault Energy F1-2014
Type: turbocharged, 90° 1.6l V6, assisted with kinetic and heat ERS
Valves: 24 (4 per cylinder)
Engine Construction: Cylinder block in aluminium
Rev limit: 15,000rpm
Pressure charging: Single turbocharger, unlimited boost pressure (typical maximum 3.5 bar abs due to fuel flow limit)
Bore: 80mm
Stroke: 53mm
Crank height: 90mm
Exhaust: Single exhaust outlet, from turbine on car centre line
Injection: Bosch direct fuel injection, limited to 500bar
Weight: Undisclosed (at least 145kg)
Total horsepower: Approximately 600hp (ICE) + 160hp (ERS)
Energy recovery system: Integrated Hybrid energy recovery via electrical Motor Generator Units, by Renault Sport
Energy Store: Lithium-Ion battery solution (up to 4MJ per lap), between 20 and 25 kg, by Renault Sport
---
---