Ferrari puts new front wing in use at Melbourne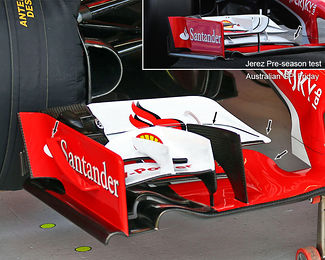 Come the third and final pre-season winter test at Barcelona, Ferrari brought along a new front wing for the SF15-T. For me the SF15-T has the fundamentals of a great front wing, as long as they develop on the concept over the course of the season. As expected, the new wing was used on both cars in Melbourne, but clearly Ferrari only introduced it at the final test to maximise development time.
The old wing (inset) had a three element cascade unit with a north mounted turning vane on top. This is so that oncoming airflow is given more of a outwash of the front tyre and trailing edge of the front wing wake, which is guided to the sidepods and barge boards of the car.
Clearly, for the 2015 car, the requirements for the front wing have changed considerably as a different nose requires different airflow management along the centre of the wing, whereas the team's decision to go for blown wheel nuts changes the ideal flow ahead and around the front wheels.
Contrary to a trend of adding more and more slots over the entire width of the front wing, as is particularly seen on the Mercedes, Red Bull and Toro Rosso, Ferrari have actually combined part of the wing's main plane with the first flap where it sits closest to the nose cone. It's a feature also seen on the Sauber C34 and a definite step away from Ferrari's 2014 front wing designs.
Their new front wing also comprises an east mounted turning vane by the cascade. This is supposed to give the air flow even more guidance and management as it passes onto the central section of the car. This is mainly a flow management device that will induce a vortex off of its tip, flowing onto the inner edge of the front wheel.
Ferrari also added an outboard canard on the outer edge of the endplate. This creates a pressure gradient between the coefficient low and high pressure, as the air flow is drawn to the lower section of the car. This approach was neatly used on the Force India and Sauber in 2014.