Cockpit edges: to round or not to round?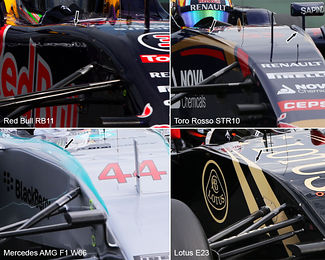 Since Toro Rosso introduced their shorter nose cone on the STR10, the team also added long fins on each side of the upper edge of the monocoque. It's a unique feature across all current cars and appears to be aimed at reducing air to spill over the edges of the monocoque.
This can be a particular issue under yaw, for example when the car is turning left. Air that is then flowing left of the monocoque could spill over the edge and end up in the cockpit opening area, one of the least efficient of a Formula One car, partly due to the movement of the driver's helmet.
The fins on the Toro Rosso may prevent this from happening. Similarly, Lotus has opted for a small radius in the rounding of the upper edges of its monocoque, creating the same effect as the fin on the STR10, except that the Toro Rosso has a slightly smaller frontal area. One negative of the Toro Rosso solution however is the increased surface area, increasing the boundary layer effect.
The design decisions made by Lotus and Toro Rosso are remarkable, as no other team appears to have gone this route. All other cars appear to have a rounding radius of close to the maximum allowed 50mm. The Red Bull RB11 and Mercedes F1 W06, both products from well funded teams are clear examples of that, so it remains to be seen whether Toro Rosso's recent addition will gather interest from rivals.