Short nose and new front wing add downforce on STR10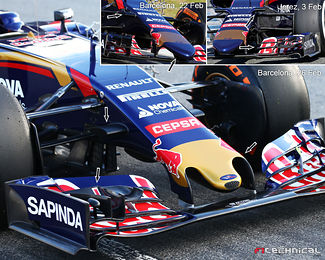 Toro Rosso have introduced a big update to their STR10, including a brand new front wing and a shortened nose cone. It is understood that the car's longer nose cone was initially designed as a base to get through the crash tests and get testing, while the team subsequently focused on what is generally considered a better aerodynamic solution. Two technical heads have confirmed to me that the shorter nose is indeed a better solution, admitting that this has to do with the flow coming off the standardised central section of the front wing.
The new nose is not dissimilar to the one run by Red Bull Racing on their RB11, featuring a thumb to meet the section rules while trying to create the minimum possible obstacle to airflow.
It's also interesting to see how the team has been experimenting with camera positions. Initially featuring arched supports, last week the team located its camera housings just ahead of the upper front wishbones, while on the new nose, the cameras are moved even further down, out of line from any front suspension arms.
Along with the new nose is also a radically different front wing, now featuring 5 elements and 6 where the wing is trailed by the front wheels. The stacked elements are also completely new. The only constant here appears to be the retention of the tyre temperature cameras fitted atop the wing, close to each front wing endplate.