Haas revives double-waved rear wing at Monza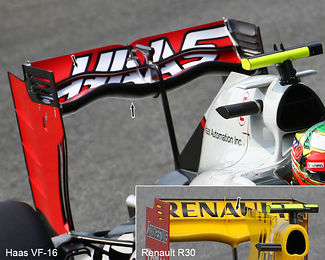 The Haas F1 Team drew a lot of attention with its new double-waved, M-like rear wing, a completely unique shape for a modern rear wing in Formula One. It's rare these days to see a rear wing that has a different shape along its entire span, and hardly a surprise that Mercedes have, or at least had the most varying profile with its spoon rear wing, as the ones used at Monza and Spa-Francorchamps. Apart from the need to test it under yaw, such designs are furthermore made difficult by DRS, as the DRS trigger and flap usually needs appropriate redesign as well.
Still, Haas pulled it off, with an M-shaped profile of the main plane and the leading edge of the moveable flap. The team did not use the wing at Spa, but it could possibly been seen again at other venues this year, as it still offered more downforce than some other wings seen at Monza.
In the top speed charts, both Haas cars were, in qualifying, around 5km/h down at the speed trap at Variante della Roggia on the factory Ferrari cars, who raced the same, upgraded Ferrari engines. That's pretty much at the bottom of the ranking. The team's drivers however were happy with their car's balance - thanks also to a modified front wing -, and eventually only missed out on points due to other factors than pure pace.
While the rear wing does look refreshing, and very different to what other teams are using, the idea is still not entirely new. Renault for instance - with James Allison as its Technical Director - fitted an M-profile rear wing to its Renault R30 as well. While clearly more simple in shape and without a moveable upper flap, the team ran this rear wing in the early races on 2010. Once they finished their own version of McLaren's F-duct - a much more efficient way of cutting drag - the team reverted to a conventional horizontal profile.