Blown wheel hubs continue to be tricky business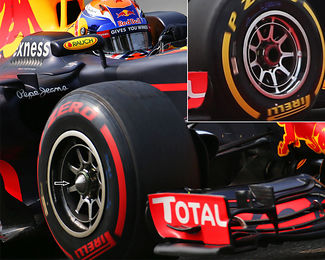 Blown wheel hubs have been adopted by a large number of teams this season, but the feature continues to keep aerodynamicists busy.
At Monza for instance, Red Bull Racing briefly tested an alternative to the open wheel hubs by putting a conical cap inside each front wheel's axle. The cap did appear to have small apertures to still allow some airflow to get through, but clearly much less than what would otherwise be possible. Both cars however were running the usual open hubs in qualifying and the race.
The test is particularly interesting as it comes just one week after the Belgian Grand Prix, where Ferrari also did some running with the front axles covered up.
Difficult to get right
Open wheel hubs already date to 2013, as they were first seen on the Williams FW35 with Red Bull using a similar system that same year. Modifications to pitstop regulations, requiring a safety pin to be fitted to prevent wheels coming off, saw the system disappear in 2014 before redesigns reappeared on various cars at the start of 2015.
It works by sending part of the airflow caught by the front brake ducts through the axle, where it exits through the aperture to manage airflow in the wake of the front wheels. As this obviously requires larger - and more draggy - brake ducts, the system is, as always, a tradeoff between more airflow alongside the inside or the outside of the front wheels.
The system is generally speaking fairly difficult to get right, not least because its downstream effect is influenced by the rotation of the front wheels, yaw and pitch. This makes it complext to simulate reliably in the wind tunnel.
While many teams are using it, the fact that Mercedes isn't shows it's not a straightforward solution. Paddy Lowe confirmed during winter testing his team is looking at it from time to time, but have found that other development routes are more beneficial.
It's interesting how Red Bull's and Ferrari's tests came at circuits that require relatively little downforce. This suggests that the design is less of an advantage on high speed circuits, and instead helps downforce with some drag penalty.
It will be interesting to see how this evolves, and if Mercedes will ever decide to implement this design on their dominant cars. It may be that next year's wider tyres will make this system less, or even more interesting as well.