Mercedes trials chimney via dorsal fin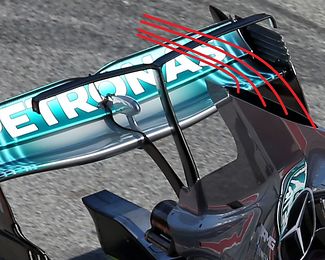 The Mercedes F1 W08 was seen in testing at Barcelona with a shark fin that features an opening on top.
This hot air outlet is obviously a trade-off with openings at the back of the car, but may be an interesting development route now that the rear wing is now placed lower, putting it quite a bit below the exit stream of the chimney. In addition, by opening up this cooling outlet up there, Mercedes is able to cut down on venting at the rear of the car, allowing cleaner flow underneath the rear wing and on top of the diffuser.
This particular type of cooling outlet is usually nicknamed chimney due its shape being very similar to an actual smoke shaft. It is not a novel type of solution in F1 as it dates back to the early 2000's.
Back then, cars featured these outlets on the sidepods. The benefit was/is a much more aerodynamically efficient solution than regular openings for cooling, with the turbulent and low energy air coming out of it being vented high above and away from the aerodynamic platforms.
They got effectively banned with the regulation changes of 2009 which regulated a minimum radius of the sidepod's bodywork. Sauber later found a way to circumvent this by integrating one in the sidepod turning vane for its Sauber C30 back in 2011, but it was eventually discarded due to the additional pipework that was necessary inside the sidepods, making these more bulky in critical areas as well.
As our previous article mentioned however, it remains to be seen if the solution will be allowed for long. If the FIA bans shark fins based on safety grounds, than this avenue will be closed off as well.