Sauber C30 Ferrari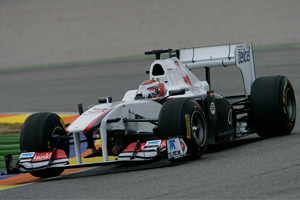 Active: 2011
Team: Sauber F1 Team

Team: James Key (TD), Christoph Zimmermann (CD), Seamus Mallarkey (HA), Beat Zehnder (Team Manager), Monisha Kalterborn (CEO)
Drivers: Kamui Kobayashi (16), Sergio Pérez (17), Esteban Gutièrrez (test)
The Sauber C30 is the first at Sauber to be designed and built under the helm of James Key. The Briton came over from Force India F1 during the 2010 season and brought with him valuable experience of working in a budget aware team while proving to be able to develop cars in a sensible manner.
After Sauber halted development of their C29 early in the season, the C30 already made its first appearance in the windtunnel in May 2010. Nonetheless, the C30 is not a radical step forward, but rather a thoughtful evolution, building on the strenghts and trying to iron out the weaknesses.
At first glance, the Sauber is a fairly simple car. It features a slightly wider nose than the C29, but apart from that nothing much has changed in the front, likely because the team already had it correct the year before.
The airbox above the driver's head still remains simple, without adding special inlets like several other teams team. Instead, Sauber focused to reduce the impact of the driver's helmet on the rear end of the car by cutting away more of the bodywork under the inlet. This leaves the airbox supported by 4 struts, rather than the previous two.
Left and right of the driver as somewhat bulkier sidepods that feature cooling inlets of reduced size. Despite adding KERS in the car, the system provided by Ferrari along with the engine, the sidepods are impressively undercut to reduce form drag at the front the sidepod.
All this leads to a nice flow of air along and over the downward sloping top of the sidepods onto the diffuser and the beam wing. Amidst this flow exit the engine exhausts, exiting just above the car's floor and close to the car's centre line. Thanks to Sauber's smaller gearbox, these exhausts now blow onto the central part of the diffuser, as well as partly through the starter hole.
Specification
Chassis: carbon-fibre monocoque
Wheel suspension: upper and lower wishbones (front and rear), inboard springs and dampers actuated by pushrods (Sachs Race Engineering)
Brakes: six-piston brake callipers (Brembo), carbon-fibre pads and discs (Brembo)
Transmission: Ferrari 7-speed quick-shift carbon gearbox, longitudinally mounted, carbon-fibre clutch
Chassis electronics: MES
KERS: Ferrari
Steering wheel: Sauber F1 Team
Tyres: Pirelli P Zero
Wheels: OZ
Dimensions
Length: 4,935 mm
Width: 1,800 mm
Height: 1,000 mm
Track width, front: 1,495 mm
Track width, rear: 1,410 mm
Weight: 640 kg (incl. driver, tank empty)
Engine
Designation: Ferrari type 056
Configuration: Naturally aspirated V8, 90° cylinder angle
Engine block: sand-cast aluminium
Valves / valve train: 32 / pneumatic
Displacement: 2,398 cc
Bore: 98 mm
Weight: more than 95 kg
Electronic injection and ignition
---
---