Mercedes introduce new nose and front wing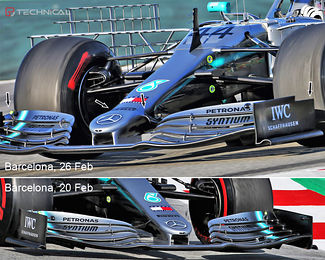 Mercedes have kicked off the second week of testing at Circuit de Catalunya, Barcelona by adding a new front end to their W10. Having struggled with front end grip during the first 4 days of testing, the upgrades will come as a welcome addition to Lewis Hamilton and Valtteri Bottas.
As another evolutionary step in Mercedes unique thin nose cone, the team have further narrowed the nose and added some sculpting to improve airflow underneath and over the nose cape that managed airflow underneath and behind the nose. Last year, Mercedes already extended the leading edges of that cape further forward, while this step integrates the entire concept better into the shape of the nose.
In addition to the development of the nose, the team have also added a new front wing, which drops its unique inwash endplates. The team were the only ones to have this design, in what was obviously an early development step just to enable reliability testing.
The new wing has endplates that angle outward, including a cutout at the top to help airflow from the wing to flush over the endplate and around the front wheels. The flaps of the wing meanwhile have mainly changed in the outboard area, converging more towards Renault's solution where the outside drops off to enhance the outwash.
Still, it's a long way apart from the concepts run by Ferrari, Alfa Romeo and Toro Rosso.