New sidepod shape part of Melbourne package for W10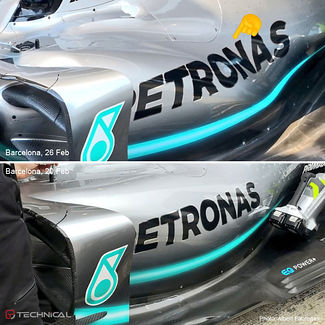 Mercedes have drawn most of the attention to them at today's testing, thanks to having an upgrade package "that leaves not a single aerodynamic element unchanged".
Indeed, the updates are extensive, and reaching a lot further than the nose and front wing changes we mentioned earlier on.
Perhaps the most obvious change are the sidepods, which are a step away from Mercedes' traditional sidepod design. In fact, the new shape seems highly influenced by a design trait of recent Adrian Newey inspired cars, are not least this year's Red Bull RB15 and Toro Rosso STR14. The new sidepod shape features a rapid downward slope of its upper surface, a beneficial trait for getting more high speed airflow on top of the diffuser.
As mentioned however, changes don't end there, as the team also introduced new bargeboards, vanes alongside the cockpit to help the sidepods in their operation, as well as the official return of Renault's "ears".
Introduced on the Renault R25, the ears used to be winglets fixed to the shoulders of the monocoque to help flow downward just downstream of the push rod. Mercedes' implementation is more complex, with them also helping airflow extraction from the S-duct, thanks to their angled supports.
Further downstream, Mercedes added vertical vanes on the floor and a double T-wing.