Scuderia Toro Rosso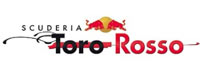 Based in: Faenza, Italy
Founded: 2005 (active since 2006)

Website: http://www.tororosso.com/

Team principal: Franz Tost (since 2006)
Team advisor: Gerhard Berger (2006-2009)
Technical director: Alex Hitzinger (2006-2007), Giorgio Ascanelli (2008-2012), James Key (Sep 2013-Sep 2018), Jody Egginton (since Mar 2019)
Head of Vehicle Performance: Laurent Mekies (Sep 2012 – Oct 2014)
After the inaugural year of Red Bull racing, the drink company had many upcoming sponsored drivers waiting in line to test for the team and trying to get a place into Formula One. As that first year was satisfying with good performance and the building of a good image, the company decided to invest more and bought the struggling Minardi team to start up Scuderia Torro Rosso. Initially named Squadra Torro Rosso, the team were at first a junior team for Red Bull Racing.
Scuderia Torro Rosso started by modifying the Red Bull RB1 and operated on its own in the former base of Minardi in Faenza, Italy. As of 1 Januari 2006, Franz Tost is in the lead of the team. The 49-year-old Austrian was a former BMW Motorsport employee where he was Track Operation Manager from 2000 to 2005.
On 9 February, former F1 driver and BMW Motorsport manager Gerhard Berger bought 50% of the stakes of Toro Rosso, handing 50% of his own shipping company's stakes to Red Bull owner Dietrich Mateschitz. Berger fulfils an advisory role in the team aside of team principal Franz Tost.
In the beginning of 2007, the team was able to get a hold on a Ferrari engine supply after Red Bull Racing didn't want them anymore. As Ferrari contracted Red Bull Technologies for the engines, Toro Rosso could just take over the contract despite unhappiness at Ferrari's HQ. By then, Vitantonio Liuzzi had scored the team's first point at the 2006 United States Grand Prix.
2007 was a bit troublesome for the small team, but when Sebastian Vettel got hold of a race seat, things improved steadily. The young German later secured the team's first pole position and victory at the 2008 Italian Grand Prix. The team ended 6th in the constructors' standings with 39 points, 35 of those scored by Vettel who moved on to Red Bull racing at the end of 2008.
Along with Vettel left Berger. In late November 2008, Red Bull regained total ownership of Toro Rosso after buying back Berger's share of the team.
In 2009 the team largely fell short of its competitors due to not having Red Bull's car updates in time. The lag of 3 or more races for the team was just too much in a season where performance was largely determined by the rate teams could add updates to their cars. 2010 was more of the same while the team prepared to entirely design its own 2011 car.
To keep some consistency, Buemi and Alguersuari were retained and thanks to a number of consistent points scoring finishes, the team finished 8th in the constructors' championship.
Building up own technical team
2012 finally marked a drive change for the team as team principal Franz Tost declared he wanted his team to be a step up for young drivers. Daniel Ricciardo and Jean-Eric Vergne were hired. The team initially didn't perform well but performance improved towards the end of the season, ending 9th in the constructors' championship.
On 6 September 2012, it was announced that James Key had joined the team as Technical Director, replacing Giorgio Ascanelli. Former chief designer Laurent Mekies was promoted to the new position of Head of Vehicle Performance. The result was a fundamentally different Toro Rosso STR8 which proved more competitive, especially after adopting a ramp style sidepod layout to enhance the car's aerodynamic efficiency.
Daniel Ricciardo joined the team as a racing driver in 2013 only to be promoted at the end of the season to Red Bull Racing. He partnered Jean-Eric Vergne. As the team grew and expanded its Bicester, UK base, in particular, development improved and turned Toro Rosso into a proper team of its own.
For 2014, Daniil Kvyat was signed to replace Ricciardo. He too would only stay for just one year before moving on to Red Bull Racing, even though the Russian would later return when Max Verstappen, one of Toro Rosso's drivers of 2015, switched teams with Kvyat halfway through the 2015 season. In that period, Toro Rosso was essentially a starter team for many Red Bull drivers, while the Toro Rosso chassis usually proved agile enough to be competitive in the midfield.
Still, with Verstappen and Sainz, the team's completely new driver line-up at the start of 2015 meant a considerable injection of talent, even though both were young rookies. The return of Kvyat later on in the season was preceded by an in-team conflict due to team members backing Verstappen against others clearly favouring Sainz. Several respected team members were laid off to diffuse the situation.
Technical difficulty arrived when Toro Rosso made a late switch from Renault to Ferrari engines late into the 2015 season, leaving just two months to adapt the design of the upcoming Toro Rosso STR11. The team did make it to the first race, and was initially reasonably competitive, but fell back gradually as the season progressed and other engine manufacturers updated their power units, whereas STR was left to run 2015-specification Ferrari units.
One year later, when the relation between Red Bull Technologies and Renault had somewhat normalized, Toro Rosso could again use up-to-date Renault engines, only to make another switch the year after, when the team inherited McLaren's Honda engines. Part of that deal also saw Carlos Sainz leave Toro Rosso after the 2017 season to join Renault Sport F1.
The engine supply change didn't immediately pay off, with 9th in the Constructors' Championship and 33 points, its worst result since 2014. It was however clear that Honda was making strides as the season progressed. With that more and more obvious, Red Bull Racing decided later on in the year to also take Honda power as of 2019, making for a strong link between both Red Bull teams and the Japanese manufacturer.
Cars