Alpine already switching to more compact rear end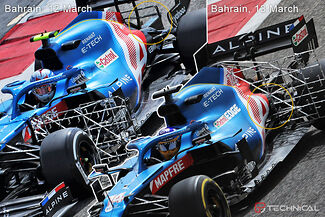 Lots of people were stunned by Alpine's decision to fix a bulky airbox on the A521, but the team have already run their new car today with a new, more compact design that sees the rear end of the car considerably slimmed down. Along with the airbox that now tapers down more more quickly, the sidepod air outlets are smaller, leaving a lot more room low above the car's floor for clean airflow.
As the image shows, Alpine were focusing on front end aero on Friday morning with a rake fitted in the front wheel's wake. Today, with the updated rear bodywork, a rake was fitted at the back of the car as Alonso made his debut with the A521. Along with the update, the mid-wing was also ditched. It remains to be seen if this is temporary as the team is evaluating different configurations.
The update however doesn't change anything about the obvious design decisions that were made at Enstone. As confirmed by Alpine's Technical Director Marcin Budkowski on Saturday morning, the team opted to fit more components in the airbox area to be able to slim down the sidepods in an attempt to reduce downforce losses as a result of the narrowed floor.
"It's a technical choice," he said. "We found that slimming the sidepods was a positive direction, which is nothing new really. So we've repackaged and relocated some of the bulky things in the car and put them behind the air inlet.
"Yes, it gives a fairly spectacularly bulky shape on the car, but we found it works for us."
Of course, no gain is for free, and Budkowski concedes there were a few compromises to be made.
"There are centre of gravity compromises but usually the aero performance wins over weight and centre of gravity."
Overall, this is a continuation of the design direction that was already overly obvious on the Renault R.S.20, resulting this year in smaller sidepod air inlets - the outboard top edges have been more rounded - and a very "natural" shape of the sidepods in general.