A closer look at Red Bull's high downforce rear end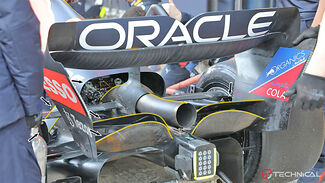 Red Bull Racing have once again produced a very interesting car with its RB18, a car that was well hidden until it his the track today at Barcelona. Apart from its particular sidepod shape, the rear end boasts some significant details in an uncharacteristically high downforce set-up, especially compared to what Ferrari is testing on day 1 at Barcelona.
The RB18 for instance features sidepods that slope down, creating a ramp for airflow to continue over the diffuser. While some other teams have focused more on the coke bottle shape to get the rear of the sidepods narrow, Red Bull made them as low as possible, aside from the central tunnel that most teams now also feature to cover centrally mounted components and create a host air outlet around the exhaust pipe.
In Red Bull's case, this central funnel covers the rear suspension elements, with the image showing the rockers that actuate the push rod - after many years of Red Bulls with rear pull rod suspension layouts. This did make packaging the exhaust a bit complicated, leaving Red Bull to curl the exhaust pipe up, from underneath these suspension components, through the bridge that support the single central rear wing pillar into the mandatory straight final 150mm of the pipe.
Left and right of the exhaust pipe are the flaps that form the beam wing. As other teams have opted for two stacked elements (at Ferrari the lower elements continues underneath the exhaust pipe), Red Bull has the left and right flap separate, connecting to the rear impact structure. Unique in this design is the second flap that is unusually big and has a sinuous trailing edge, quite clearly to help the diffuser work efficiently. Surely other teams who might have missed this will already be looking into the possible advantages of this solution, and perhaps also planning a copy for their own cars.
Finally it's interesting to note the brake duct exits that blow how air and brake dust upward. This was previously expelled through the rims outboard but is no longer possible in the new regulations as they mandate inlet and outlet to be on the inside of the wheel, with no airflow through the wheels at all.