Mercedes reveal dramatic sidepod redesign at Bahrain test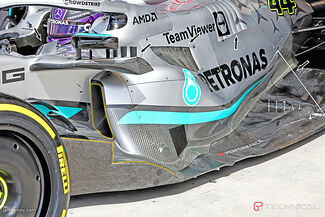 Mercedes's F1 W13 car at today's Bahrain pre-season test turned out to be a different beast compared to what the team tested at Barcelona two weeks ago. The team have made it a tradition to use an early version of the development to test first before introducing the latest and greatest aerodynamic developments in the final test before the season kicks off. Eyes turned when the car was revealed with a major development of the sidepods and floor.
Though the BCN iteration already featured narrow and compact sidepods, the inlet was high up and the upper side impact structure nicely integrated into the sidepod body. This new version however has a narrow and high cooling inlet, wider at the bottom than at the top. This means there is no real undercut on the sidepods, but instead a slanted surface that allowed Mercedes engineers to package components low to the floor and closer to the car's centreline, something that theoretically helps the car's dynamics.
The side impact structure is now also completely detached from the sidepod, allow air to flow underneath it and still over and around the sidepod surface. It is now basically a separate wing that provides home for the mandatory crash structure and is a support for the wing mirrors and some vertical winglets on the upper surface. This particular design feature raised some eyebrows early on with Red Bull Team Principal Christian Horner saying 30mins after seeing the car that some features "don't follow the spirit of the rules".
Further back, the same "narrow" philosophy is used, and just like in BCN, the engine cover has a high shoulder line but is very narrow top to bottom, quite similar to what the Mercedes-powered Williams team are doing.
Along with the sidepod update, Mercedes have added a fence on the outer side of the floor channels, trying to fend off the turbulence coming off the front wheels. The wavy edge of the floor, something that features uniquely on the BCN W13, is now gone.
We truly are nearing the no-sidepod F1 car...