Moving components into the car's centreline to slim sidepods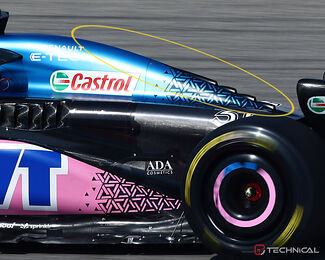 A clear trend that has been going on even before the current set of regulations is for teams to move components closer towards the car's centreline. This trade-off has everything to do with an attempt to aerodynamically optimise the sidepods. Since most teams now agree the latter need to feature a downward slope towards the rear, components needs to be put elsewhere.
Alpine's A523 is no different and also follows the 2023 trend of further enlarging the car's shoulders to guide hot air to the back of the car.
In addition to cooling louvers - also known as shark gills - on the sides of the shoulders the A523 also has apertures on the ridge of the engine cover. For Alpine this is a continuation of a design route that they've followed for years. For more than several seasons now the Alpine cars feature a relatively bulky airbox that houses a channel to feed the engine while also having channels to cool a nearly horizontally positions central cooler.
Ferrari typically opt for the other extreme with a very slim airbox and they have continued to do so with their new Ferrari SF-23.