Toro Rosso STR14 Honda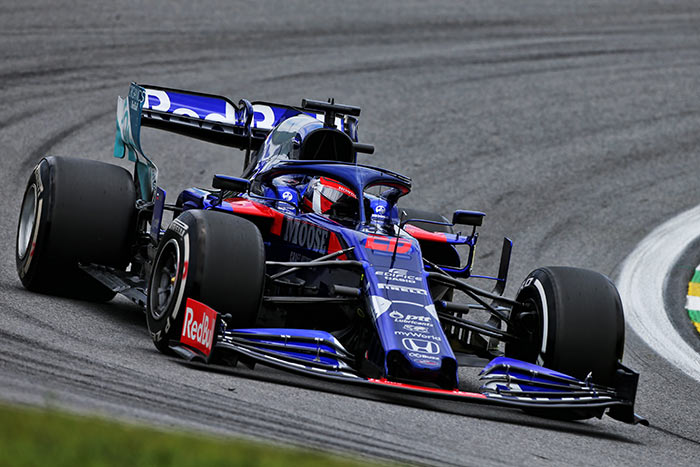 Active: 2019
Team: Scuderia Toro Rosso

Team: James Key (TD), Jody Egginton (DTD), Paolo Marabini (CD Composite and Structures), Trygve Rangen (CD Mechanical and systems), Brendan Gilhome (HA), Franck Sanchez (HAD), Guillaume Dezoteux (HVP), Alessandro Poggi (HEL), Graham Watson (TM), Franz Tost (TP)
Drivers: Daniil Kvyat (26), Alex Albon (23), Pierre Gasly (10)
Team name: Toro Rosso Honda
The Toro Rosso STR14 is the last car James Key developed for the team, before heading off to McLaren. It clearly built on the design of the STR13, but with Red Bull Racing also going for Honda power, the team were able to share some parts again with Red Bull Racing, supplied through Red Bull Technology, the technical spinoff for both teams. As a result, apart from sharing the Honda RA619H power unit, the gearbox and rear suspension are identical with the Red Bull RB16.
The front suspension is a pushrod design utilising carbon wishbones. These items along with a number of the electronic components are designed and produced in Faenza.
The braking and fuel systems have been produced in collaboration with Red Bull Technology, while the differential and the hydraulically operated carbon clutch are common across the two teams.
Results
2019 was a great year for the Faenza team, finishing sixth in the Constructors' Championship, thanks above all to the two podium finishes, one each for Daniil Kvyat and Pierre Gasly, in Germany and Brazil respectively. The team, in its last year as "Scuderia Toro Rosso" before being renamed "Scuderia AlphaTauri", brought its points haul to a total of 500 over its 14 years in Formula 1 to date.
Specifications
Chassis: Composite monocoque structure, designed and built in-house, carrying the engine as fully stressed member
Wheels: AppTech, forged magnesium alloy
Tyres: Pirelli
Front suspension: Aluminium alloy uprights, carbon-composite double wishbone with springs and anti-roll bar, dampers
Rear suspension: Aluminium alloy uprights, carbon-composite double wishbone with springs and anti-roll bar, dampers
Brakes: Carbon - Carbon with Brembo callipers
Electronics: MESL standard electronic control unit
Fuel: Exxon Mobil
Gearbox: Eight-speed gearbox, longitudinally mounted with hydraulic system for power shift and clutch operation. One-piece carbon maincase by Toro Rosso, internals by Red Bull Technology
Dimensions
Length: Undisclosed
Height: 950 mm (minus T camera)
Track width: 1,600 mm (front); 1,550 mm (rear)
Weight: 743kg (FIA mininum; incl. driver and lubricants, tank empty)
Width: 2,000 mm (FIA maximum)
Powertrain
Designation: Honda RA619H
Type: turbocharged, 90° 1.6l V6, assisted with kinetic and heat ERS
Valves: 24 (4 per cylinder)
Rev limit: 15,000rpm
Pressure charging: Single turbocharger, unlimited boost pressure (typical maximum 3.5 bar abs due to fuel flow limit)
Bore: 80mm
Stroke: 53mm
Crank height: 90mm
Exhaust: Single exhaust outlet, from turbine on car centre line
Injection: Direct fuel injection, limited to 500bar
Weight: Undisclosed (at least 145kg)
Energy recovery system: Integrated Hybrid energy recovery via electrical Motor Generator Units
Energy Store: Lithium-Ion battery solution (up to 4MJ per lap), between 20 and 25 kg
Energy Store: Battery solution (up to 4MJ per lap), between 20 and 25 kg
---
---