Porsche 804 F1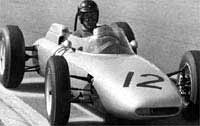 Active: 1962
Team: Porsche System Engineering

Designer: Ferdinand PorscheDrivers: Dan Gurney
Porsche began their road to Formula 1 in 1959 when they produced a flat 4-cylinder Formula 2 car that was derived from their RSK sports car. The car was driven to victory by Jo Bonnier and Stirling Moss. The latter winning at Aintree and Zeltweg.
In 1962 Porsche developed an 8-cylinder engine for Formula 1. Following Porsche practice the engine was air-cooled and had twin overhead camshafts, four Webber carburetors, and two valves per cylinder. While workmanship was never an issue the cars were not technically advanced when compared to the Lotus 25. While the British constructors were adopting lightweight alloy wheels to reduce unsprung weight and fuel-injection, Porsche stayed with carburetors and steel rims. The car also features a new brake design and a horizontal cooling fan on top of its air-cooled eight-cylinder engine. The engine had a high maximum power at 9200 rpm but was much less performant in lower rpm ranges compared to the competitors.
As Porsche finally entered a car at Monaco, the first Grand Prix of the season, Dan Gurney qualified third. He was passed by Richie Ginther in the first corner but won the race after the leaders had to retire. It was the first and only official race win for Porsche as a car manufacturer. A week later, Gurney beat Jim Clark's Lotus to win again at the non-championship Solitude GP. Porsche claimed a solid 1-2 podium finish at the 300,000 visitor event.
The next event was the German Grand Prix which was run in torrential rain. After qualifying on the pole the race was a magnificent duel between Hill, Surtees and Gurney. The race proved to be one of Hill's greatest victories and Gurney finished a more than respectable third. For the rest of the year the cars continued to be competitive but scored no more victories.
Towards the end of 1962, Porsche ceased its Formula 1 programme. Such technology, with only minimal carryover to production cars, required heavy financial outlays. Since motor racing was always the basis for new developments and improvements to production sports cars at Porsche, the company concentrated instead on GT cars and long-distance events once again.
Specifications
Chassis: Steel-tube space frame, independent suspension, torsion bars, Porsche disc brakes
Tyres: 5.00 x 15 R front tyres, 6.50 x 15 R rear tyres
Weight: 452kg
Dimensions:
Wheelbase: 2300mm
Length: 3600mm
Top speed:
168 mph (270 km/h)
Chassis number:
804 - 04
Engine:
8 cylinder Boxer
Bore X Stroke:
66 x 54,6 mm
Capacity:
1,494 cc
Power:
180 Bhp at 9,200 rpm
Fuel system:
Four dual-downdraught carburettors, 150 litre fuel tank
Driveline:
Six speed gearbox, limited-slip differential
---
---