Ferrari 312B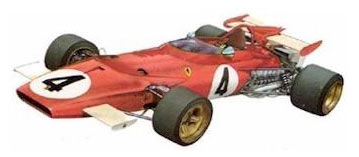 Active: 1970 - 18-04-1971
Team: Scuderia Ferrari SpA
Under the direction of Mauro Forghieri, Ferrari developed a new flat-12 engine for 1970. This horizontal "boxer" layout allowed for a very low center of gravity while allowing a clear airflow beneath the rear wing. To minimize frictional losses the crankshaft revolved in 4 main bearings. After a series of failures a Pirelli cushion coupling between the crankshaft and the flywheel was added. This unit was to power Ferrari for the next decade.
Five cars were built for the 1970 season. Jacky Ickx returned to Ferrari as number one driver taking over for Chris Amon. The start of the season saw Jochen Rindt take a commanding lead but his tragic death at Monza left the title undecided. A late season charge by Ferrari and Ickx saw the red cars start from the front row in seven straight races. Having won at Austria, Canada and Mexico the Belgians title came up short when he suffered a broken fuel pipe at Watkins Glen.
In 1971 this car also ran in the first two races of the season, ending its career at the Spanish GP before the introduction of the Ferrari 312B2 at the Monaco GP.
Specifications
Chassis: Type 001, monocoque body, aluminium panels riveted on a tubular steel structure, partially stress-bearing engine
Front Suspension: Double wishbones, upper rocker arm, lower wishbone, inboard spring/damper units and anti-roll bar
Rear Suspension: Upper arm, reversed lower wishbone, 2 radius arms and anti-roll bar
Brakes: Outboard Girling discs and callipers, separate adjustable hydraulic circuits on the two axles
Steering: Rack and pinion
Fuel Tank: 240 litres, side-mounted in canvas/Pirelli rubber
Bodywork: Aluminium single-seater body with composite elements
Transmission: Rear-wheel drive, Borg & Beck multi-plate clutch, 001, rear longitudinal overhanging 5-speed gearbox + reverse, in unit with multi-plate limited-slip differential
Gear Ratios: Variable depending on track
Dimensions
Length: 4,020 mm
Width: 742 mm
Height: 956 mm
Wheelbase and Front/ Rear Track: 2,385/1,553/1,550 mm
Kerb Weight (with water and oil): 551 kg
Front Tyres: 9-22-13", Firestone
Rear Tyres: 12.5-26-15", Firestone
Wheels: cast light alloy; front 10x13", rear 14x15"
Engine
Designation: Type 001
Type: Rear-mounted. 180° V12, light alloy cylinder block and head, aluminium wet liners, 112 mm connecting rods, water cooled
Bore & Stroke: 78.5 x 51.5 mm
Unitary and Total Displacement: 249.25/2,991.01 cc
Compression Ratio: 11.8:1
Max. Power Output: 460 bhp at 12,000 rpm
Timing Gear: 4 valves per cylinder, 2 overhead camshafts per cylinder bank driven be gears off the back of the engine
Fuel Feed: Lucas indirect injection
Ignition: Single plug, distributor, coil and Dinoplex electronic capacitive discharge
Lubrication System: Dry sump with radiator
---
---