Ferrari 312B2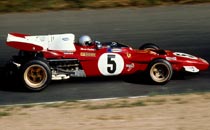 Active: 23-05-1971 - 03-03-1973
Team: Scuderia Ferrari SpA

Team: Mauro Forghieri (TD)
Drivers: Jacky Ickx, Clay Regazzoni, Mario Andretti, Arturo Merzario
Sponsors: Champion, Firestone, Lockheed, Shell
Although being presented in January of 1971, the B2 debuted only at the Monaco GP of that year. Ferrari had chosen to continue with the older Ferrari 312B until the B2 was fully ready.
Rather than a further development of the Ferrari 312B, this was a practically new car with an engine with shorter stroke, aimed to increase maximum revs and therefore increase power output. The nose cone was low and squarish, the flanks straight, and the rear wing attached to an appendage of the roll-bar.
The rear suspension had also been completely redesigned with twin struts and spring/damper groups mounted above the gearbox and connected to the hub with thrust arms. This redesign was mainly influenced by a search to reduce non-suspended weight. The spring-shock absorber groups were also lengthened and shifted towards the centre of the car. Still, the car remained a handful as drivers struggled with the handling in combination with the Firestone tyres.
Ferrari said years later that "the car was interesting enough but its performance was affected by other factors". Indeed, at the time Ferrari was struggling to keep the noses pointing in the same direction after several difficult years. The situation climaxed halfway through 1973 when Luca Di Montezemolo was brought in from Fiat, Ferrari's new owner to set things straight.
Overall, the car was in terms of results far from a great Ferrari, with Jacky Ickx able to score just a single win with the B2 in 1971. The Belgian won the Dutch GP at Zandvoort in rainy conditions while teammate Clay Regazzoni put the car in third on two occasions.
One year later it was more of the same with the B2 as Ickx only won the German GP, despite securing 4 pole positions that year. Despite the disappointing results, it even came in action in 1973, where it was obvious it was time for the upcoming Ferrari 312B3. Ickx scored a 4th place as best result with B2 that year.
Specifications
Chassis: Type 621/A monocoque body, aluminium panels riveted on a tubular steel structure, partially stress-bearing engine
Bodywork: Aluminium single-seater body with composite elements
Front Suspension: Double wishbones: upper rocker arm, lower wishbone, inboard spring/damper units and anti-roll bar Rear Suspension: Single upper radius arm, horizontal spring/damper units over the differential and anti-roll bar Brakes: Lockheed discs and callipers, inboard at rear, separate adjustable hydraulic circuits on the two axles Steering: Rack and pinion Transmission: Rear-wheel drive, Borg & Beck multi-plate clutch, 621 rear longitudinal overhanging 5-speed gearbox + reverse, multi-plate limited-slip differential Gear Ratios: Variable depending on track Front Tyres: 8.6-20-13", Firestone Rear Tyres: 13.5-24.0-15", Firestone
Wheels: cast light alloy; front 10x13", rear 15x15"
Fuel Tank: 233 litres, side mounted in canvas/Pirelli rubber
Dimensions
Length: 3,850 mm Width: 750 mm Height: 900 mm Wheelbase and Front/ Rear Track: 2,426/1,523/1,580 mm Kerb Weight (with water and oil): 560 kg
Engine
Designation: Type 001/1, 180° V12 derived from the 001, light alloy cylinder block and head, aluminium wet liners, 112 mm connecting rods, water cooled Bore & Stroke: 80 x 49.6 mm Unitary and Total Displacement: 249.317/2,991.802 cc Compression Ratio: 11.5:1 Max. Power Output: 480 bhp at 12,500 rpm Timing Gear: 4 valves per cylinder, 2 overhead camshafts per cylinder bank gear driven off the rear of the engine Fuel Feed: Lucas indirect injection Ignition: Single plug, Marelli Dinoplex electronic capacitive discharge with coil ignition unit Lubrication System: Dry sump with radiator
---
---