Wolf WR1 Cosworth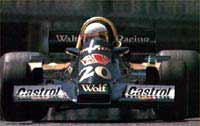 Active: 1977 - 07-05-1978
Team: Walter Wolf Racing

Team: Harvey Postlethwaite (CD), Walter Wolf (TP), Peter Warr (TM)
Drivers: Jody Scheckter (20)
Having run a renamed Hesketh 308C in 1976, Canadian Walter Wolf set out to compose a team to build their own unique chassis. Harvey Postlethwaite surely was a great asset for Wolf to have on board, thanks to his choice to stay with Wolf after Frank Williams opted to drop out of the then newly founded Wolf-Williams Racing team to start his own outfit.
Postlethwaite had already built a race winning car in the Hesketh 308B and hence knew what it took to build a solid car for the Formula One that of the time. Success were therefore immediate, with Sheckter taking victory at the season's opening race. Two further wins and some podiums made Scheckter finish second in that year's drivers' championship.
The WR1 itself was the first design created and built by Wolf, and was quickly followed by the identical WR2, already ready by the start of the season. WR3 was identical as well and complete by March 1977 whereas chassis WR4 was produced with slight adjustments. The WR1 was later similarly modified for the 1978 season, but was essentially rendered obsolete due to the arrival of ground effect in 1978.
The WR1 chassis recorded 3 wins and one fastest lap in 1977. It contested in 10 of the 17 races of 1977 and 5 more in 1978, all in the hands of Jody Scheckter.
Specifications
Chassis: Aluminium monocoque
Drive: Rear wheels
Clutch: Borg & Beck
Brakes: Front:Girling, disk, outboard, single caliper Back: Lockheed, disk, inboard, single caliper
Front suspension: Double wishbone, outboard springs
Rear suspension: Parallel lower links, single upper link, twin radius rods, outboard springs
Dampers: Koni
Battery: Yuasa
Tyres: Goodyear
Fuel: Fina
Lubricants: Castrol
Gearbox: Manual, Hewland FGA400 with 6 forward gears, one reverse
Dimensions
Length: 4,195 mm
Width: 1,975 mm
Height: 955 mm
Front track: 1,410 mm
Rear track: 1,524 mm
Wheelbase: 2489mm/2616mm
Weight: 585 kg (empty)
Tank size: 182 L
Powertrain
Engine: Ford Cosworth DFV
Type: Naturally aspirated V8, 90°
---
---