Williams FW07C Cosworth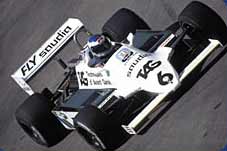 Active: 15-03-1981 - 04-04-1982
Team: Williams F1

Team: Frank Williams (TP), Patrick Head (TD), Frank Dernie (CA), Neil Oatley (CD), Alan Challis (CM)
Drivers: Alan Jones (1 in 1981), Carlos Reutemann (2 in 1981, 5 in 1982), Keke Rosberg (6 in 1982)
Sponsors: TAG, Saudia Airlines, Mobil, Petromin
The Williams FW07C was a reaction of changed regulations as the governing body decided to ban moveable skirts in an attempt to slow the cars through corners.
Williams had started the 1981 season with the Williams FW07B and immediately scored a win as Reutemann won the opening round at Kyalami, South Africa. The changes to the regulations however required a design change, leading to the introduction of the FW07C with fixed skirts.
At its introduction, Alan Jones won at Long Beach, followed by another win by Reutemann at the Brazilian GP. After those two wins though, the car dropped in the pecking order as Williams were focusing most of their resources trying to get active suspension working on the car. The idea was to make sure the fixed skirts were always as close to the ground as possible.
When the team eventually got the car sorted, its drivers secured another 4 race wins and also the constructor's title.
Specifications
Front suspension: Top rocker arms, lower wishbones and inboard springs
Rear suspension: Top rocker arms, lower wishbones and inboard springs
Dampers: Koni
Wheel diameter: 15 in front, 13 in rear
Wheel rim width: 11 in front, 16 in rear
Tyres: Goodyear
Brakes: Lockheed
Steering: Ferodo
Radiators: Behr
Fuel tank: ATL
Battery: Panasonic
Electronics: Contactless/VDO
Dimensions
Wheelbase: 2692 mm
Track 1803 mm front, 1600 mm rear
Gearbox weight: 50 kg
Chassis weight: 41 kg
Formula weight: 580 kg
Fuel capacity: 182 l
Transmission
Gearbox: 5-speed Hewland/Williams
Type: Naturally aspirated 90° V8
Driveshafts: Williams/Löbrö
Clutch: Borg & Beck
Engine
Designation: Ford-Cosworth DFV
Bore x Stroke: 85.6 mm x 64.8 mm
Capacity: 2993 cc
Compression ratio: 12:1
Maximum power: 480 bhp at 11,100 rpm
Valves diamaters: exhaust valves: 2x 34.5 mm, inlet valves: 2x 29 mm
Valve timing: 102°
Pistons and rings: Cosworth
Bearings: Vandervell
Fuel injection: Lucas
Weight: 163 kg
Ignition: Lucas / Contactless
Spark plugs: Champion
Fuel and oil: Mobil
Fuel consumption: 51 l/100km
---
---