Ferrari F1 89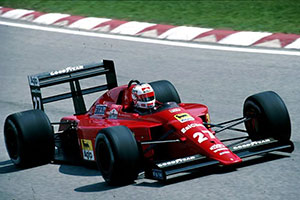 Active: 1989
Team: Scuderia Ferrari SpA

Team: John Barnard (TD), Claudio Lombardi (HE)
Drivers: Nigel Mansell (27), Gerhard Berger (28), Roberto Moreno (Test)
The car that was born from Ferrari project 640 was the team's first car powered by a naturally aspirated engine in a decade, and one that was created to flush away the defeat of 1988 where McLaren won 15 out of 16 races with its McLaren MP4-4.
The car is mechanically an interesting piece of engineering, with new head of engines Claudio Lombardi opting for a lightweight V12 with 4 camshafts and 5 vales per cylinder - 2 of which were for exhaust. Teamed with it was the first ever 7-speed gearbox in Formula One.
That very gearbox was revolutionised by the introduction of a semi-automatic gear shifting mechanism with a gear change bar mounted behind the steering wheel. The solution was pushed by John Barnard, who later said he had been chasing a solution to replace the manual shifter since he had designed the Chaparral 2K that was good for victory at the 1980 Indianapolis 500 in the hands of Johnny Rutherford. The main reason for this design change was however aerodynamical, as it allowed to remove the bulky stick shift within the cockpit, along with its mechanical link to the gearbox, located at the back of the car. It allowed for a sleek nose that is so distinctive on the car.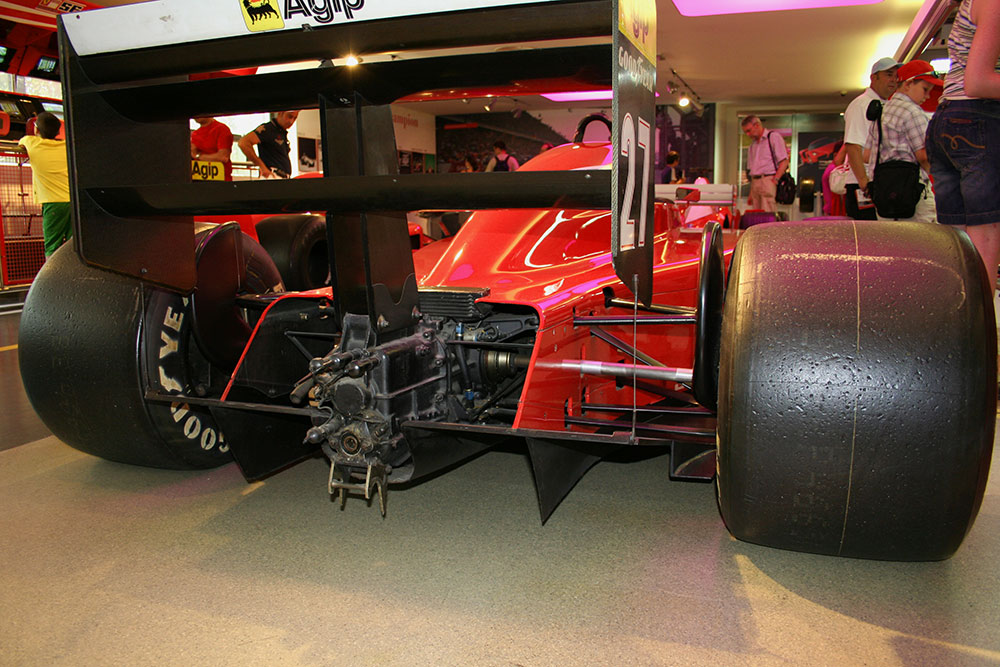 While it was thanks to Barnard that the system made it eventually into F1, it was Ferrari that developed the system, having worked on a similar idea 10 years earlier. The latter had not been used in the end because the advanced electronics to ensure its perfect functioning were not available at the time. Even in 1988, its original scheduled season of introduction, the shifting mechanism was deemed to be too unreliable, hence it was postponed for 1989.
Even then, reliability was a major issue, and especially the semi-automatic gearbox, until Ferrari eventually determined that a lack of power from the battery was the major culprit. At the end of the June, with the help of experts from the team's long standing partner Magnetti Marelli, the problem was fixed, and retirements due to the gearbox were dramatically decreased.
Still, that didn't mean it was flawless, and retirements were widespread. Ferrari in fact failed to get both its cars to the finish at any of the 16 races of the 1989 season. When it did finish however - 9 times out of 32 starts - it finished on the podium. Mansell took victories at Brazil and Hungary and Berger another one at the Portuguese Grand Prix. Ferrari finished the constructors' championship in third place with 59 points, having lost second during the final two events where Williams scored heavily and Ferrari failed to get its cars to the finish.
Specifications
Chassis: Type 640, single-piece monocoque, material: carbon-fibre and Kevlar honeycomb
Front Suspension: Double elliptic section wishbones, push-rods
Rear Suspension: Double wishbones, push-rods
Brakes: Ventilated carbon-fibre discs and one-piece Brembo callipers on all 4 wheels
Steering: Rack and pinion
Front Tyres: 25.0-10.0-13", Goodyear
Rear Tyres: 26.0-15.0-13, Goodyear
Wheels: one-piece cast, front 11.75x13", rear 16x13"
Fuel Tank: 192/203 litres, 1 central, 2 side tanks, 102 RON fuel
Bodywork: Composite, detachable
Transmission: Rear-wheel drive, three-plate steel clutch with mechanical and automatic control, 640/A longitudinal overhanging 7-speed gearbox + reverse, semi-automatic with electronic management
Gear Ratios: Variable depending on track
Dimensions
Length: 4,400 mm
Width: 2,130 mm
Height: 950 mm
Wheelbase: 2,830 mm
Front track: 1800 mm
Rear track: 1,675 mm
Kerb Weight (with water and oil): 505 kg
Engine
Designation: Ferrari Type 035/5
Type:Rear-mounted 65° V12, Special cast iron cylinder block without wet liners, light alloy head, 112 mm connecting rods, water cooled
Bore & Stroke: 84 x 52.6 mm
Unitary and Total Displacement: 291.49/3,497.96 cc
Compression Ratio: 11.5:1
Max. Power Output: 600 bhp at 12,500 rpm
Timing Gear: 5 valves per cylinder (3 intake), 2 overhead camshafts per cylinder bank, gear driven off the front of the engine
Fuel Feed: Weber-Marelli digital electronic indirect injection with 2 injectors
Ignition: Single plug, Magneti Marelli electronic static
Lubrication System: Dry sump
---
---