Tyrrell 017B Cosworth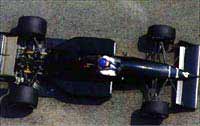 Active: 26-03-1989
Team: Tyrrell

Team: Harvey Postlethwaite, Brian Lisle, Maurice Philippe
Drivers: Jonathan Palmer, Michele Alboreto
Number built: 2 (017/4 and 017/5)
For the beginning of the 1989 season, Tyrrell adapted two of their 017 chassis (the 017/4 and 017/5), only to bridge the gap to the introduction of the Tyrrell 018. Both cars were fitted with the 6-speed gearbox of the 018 and featured modified rear suspension.
Just like in 1988 though, the car was uncompetitive. It only raced at the first GP of the year, held at Jacarepaguá, Brazil. At that race, Palmer finished in 7th place (with the 017/4), Alboreto 10th.
Palmer though did qualify at the next GP at Imola with the 017/4 chassis before taking part in the race with the 018/1 chassis, the car that Alboreto failed to qualify at the venue.
---
---