Williams FW13B Renault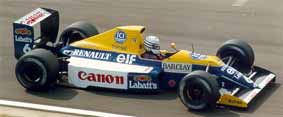 Active: 1990
Team: Williams F1

Team: Patrick Head (TD), Adrian Newey
Drivers: Thierry Boutsen (5), Riccardo Patrese (6)
Williams's FW13B is a modified version of the FW13 which the team introduced late in 1989. As the FW13 was good for a race win at the final event of that season, it was no surprise that Williams completed 1990 with an updated version of the FW13. That strategy was however immediately a sign of Williams focusing mainly into the future, as the team was gearing up its partnership with Renault, and aerodynamic mastermind Adrian Newey to bolster the team's chances.
With FW13 already known for its tightly packed front end, the FW13B features further aerodynamic improvements to the nose and sidepods, along with revised suspension geometries.
The car started the season strongly, with a win for Patrese at the opening Grand Prix. Succes however tailed off, with Boutsen only adding two more podium finishes in the remainder of the season. It saw Williams conclude its 1990 campaign in a disappointing 4th place in the constructors's trophy.
---
---