AGS JH25 Cosworth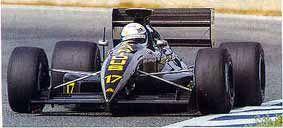 Active: 1990
Team: Automobiles Gonfaronaise Sportive

Designer: Michel Costa
Driver: Gabriele Tarquini (17), Yannick Dalmas (18)
Despite rumours that AGS would use Guy Nègre's W12 engine, it was found that the engine would not be powerful enough to compete with any of the current engines in Formula One. Hence the team was doomed to once again use Cosworth engines which did not bring any improvement at all.
Furthermore, design of the car was delayed as the team was moving to its new Le Luc base at the same time. Only when the new factory was operational in January 1990, Michel Costa could start its development which had to be ready by April for the first race of the season. This proved to be possible though, as the car features a new thinner monocoque. While the car was also completely revised aerodynamically - with lower sidepods containing a revised cooling system - compared to the JH24, most mechanical components, including the 6-speed longitudinal gearbox and the engine were carried over from previous cars.
The situation in F1 also required the team to pre-qualify, a difficult task for both drivers with the JH25. Both of them managed to succeed 4 times each during the season's 16 Grand Prix, but the car only made it to the finish on 3 occassions. The best result was a 9th place finish for Dalmas at the Spanish GP.
Five chassis were built of the JH25. Four initially during 1999 (chassis numbers 040-043) and the 044 in 1991, trigger by Yannick Dalmas' heavy crash that destroyed the 040 chassis.
Specifications
Weight: 505 kg
Front track: 1.8 m
Rear track: 1.67 m
Transmission: Longitudinally mounted 6-speed manual gearbox
Engine
Designation: Cosworth DFR V8
Displacement: 3494 cc
Bore/stroke: 90 - 68.7 mm
Power: 456 Kw / 620 Hp @ 11250 rpm
Weight: approx. 190 kg
---
---