McLaren MP4-8 Ford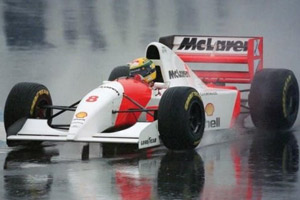 Active: 1993
Team: McLaren International Ltd

Designers: Neil Otley, Henri Durand, Michael Jeffreys, David North, Dave Neilson, Tim Goss
Drivers: Michael Andretti (7), Mika Häkkinen (7), Ayrton Senna (8)
The McLaren MP4/8 was designed by Neil Oatley and was considered to be a very advanced and solid chassis. Design work started without the team knowing which engine it would be using, and so it put its hopes on McLaren's field-leading computer-aided design capabilities to make up for the lost time latest on in the car's design process.
Featuring a battery of advanced new technologies, the car was the company's most sophisticated design yet with new electronic engine management software, chassis control, data acquisition and telemetry systems. Designed and manufactured by McLaren Group subsidiary TAG Electronic
Systems exclusively for McLaren, these systems were accompanied by a new, lightweight electronic control panel in the cockpit.
Honda's departure however left McLaren struggling to finalise a new engine deal for 1993, and it took until November 1992 when Ford HB engines were announced to power the MP4/8.
This was a light and economical 3.5 litre V8 the by no means a bad engine, but there was no escaping the fact that, whereas McLaren had previously been able to call upon bespoke power units from the likes of TAG Porsche and Honda, its new hi-tech MP4/8 would have to rely on a proprietary unit. One, moreover, which would be one specification behind that used by Benetton in its B193 because Ford already had a supply contract with them.
Ron Dennis had tried very hard to secure a deal with Renault, and even considered buying Ligier in order to obtain its Renault engines. McLaren would naturally have wanted to use Shell fuel and lubricants, and ultimately this proved a stumbling block with Renault's sponsor, Elf. There was thus no alternative but to invest an estimated £6 million in developing the HB.
Track performance
On-track, Ayrton Senna really liked the MP4/8, particularly after testing at Silverstone where he ran his quickest laps there almost first time out. He proved his value to the team in the very first race at Kyalami by coming a close second to Prost's Williams despite suffering an active suspension problem.
He quickly followed that with wins at home in lnterlagos and in one of the greatest Grand Prix drives of all time in the wet at Donington Park. Andretti, meanwhile, crashed in all three events. Michael Andretti failed to impress and was later replaced by McLaren's test driver, Mika Hakkinen for the last three races of the season.
Despite issues behind the scene, with team principal Ron Dennis arguing with Senna about his sponsorship deals, Senna went on to score 5 wins in 1993, comparing to Benetton's singleton win during the same year. The Brazilian's win at the season-ending Australian Grand Prix would also turn out to be his last one in Formula One, while it also enabled McLaren to call itself the most successful F1 team at the time.
Chassis
Front suspension: double wishbones, pushrod, inboard spring/damper/actuator
Rear suspension: double wishbones, pushrod, inboard spring/damper/actuator
Suspension dampers: Bilstein
Wheel diameter: front: 13 inch / rear: 13 inch
Wheel rim widths: front: 11,5 inch / rear: 13,7 inch
Tyres: Goodyear
Brakes: Brembo
Brake pads: Carbone Industrie/Hitco/Brembo
Steering: McLaren
Radiators: McLaren/Calsonic
Fuel tanks: ATL
Battery: GS
Instruments: TAG Electronics
Transmission
Gearbox: McLaren six-speed transverse semi-automatic
Driveshafts: McLaren
Clutch: AP
Dimension
Wheelbase: 2902 mm
Track: front: 1692 mm / rear: 1607 mm
Formula weight: 505 kg
Fuel capacity: 215 litres
Engine
Type: Ford HB
No. of cylinders: V8 (75°)
Fuel and oil: Shell
Sparking plugs: Champion
Electronics: TAG electronics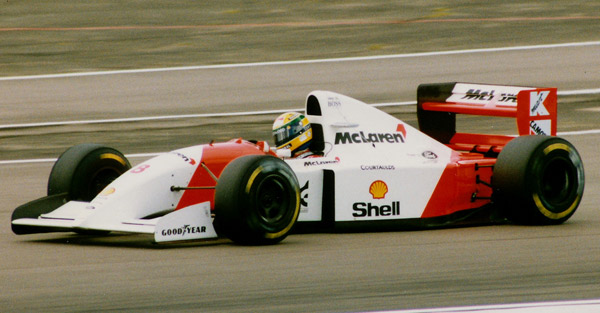 Images by Anthony Fosh
---
---