Williams FW15C Renault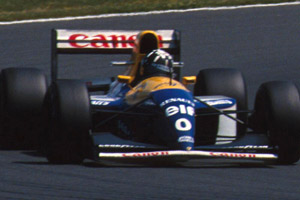 Active: 1993
Team: Williams F1

Designers: Patrick Head, Adrian Newey
Drivers: Damon Hill (0), Alain Prost (2)
The Williams FW15C was a Renault-powered Formula One car designed and built by Williams Grand Prix Engineering and raced by Alain Prost and Damon Hill during the 1993 Formula One season. It was the first car designed by Patrick Head and Adrien Newey in collaboration after Head had repeatedly adapted previous designs in earlier seasons.
Contrary to the FW14B that comfortably won both championships in 1992, the FW15C was built with active suspension in mind from the start. This means that the packaging could be optimised, and overall weight reduced. The car also featured an ABS braking system and a transmission mode called "auto-up". This button on the steering wheel enabled the driver to switch to fully automatic upshifting until it was deactivated again.
As the car that won both the drivers' and constructors' championships in the last season before the FIA banned electronic driver aids, the FW15C has a decent claim to be the most technologically sophisticated Formula One car of all time, incorporating anti-lock brakes, traction control and active suspension.
Specifications
Front suspension: Williams hydro-pneumatic
Rear suspension: Williams hydro-pneumatic
Suspension dampers: Williams
Wheel diameter: front: 13 inch / rear: 13 inch
Wheel rim widths: front: 11,5 inch / rear: 13,7 inch
Tyres: Goodyear
Brake calipers: AP
Brake discs: Carbone Industrie
Brake pads: Carbone Industrie
Steering: Williams
Radiators: Williams/Behr
Fuel tanks: ATL
Battery: RS
Instruments: Magneti Marelli/Williams
Gearbox: Williams six-speed transverse semi-automatic
Driveshafts: Williams
Clutch: AP
Dimension
Wheelbase: 2921 mm
Track: front: 1670 mm / rear: 1600 mm
Gearbox weight: 50 kg
Chassis weight (tub): 50 kg
Formula weight: 505 kg
Fuel capacity: 210 litres
Engine
Type: Renault RS5
No. of cylinders: V10 (67°)
Fuel and oil: Elf
Sparking plugs: Champion
Electronics Magneti Marellli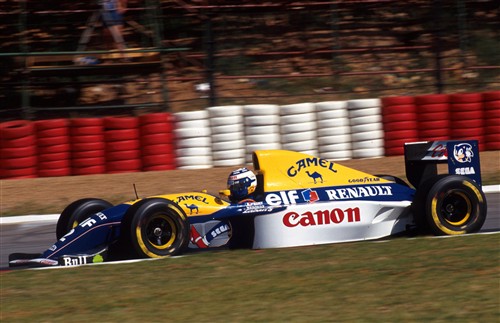 Images by Williams F1
---
---