McLaren MP4-13 Mercedes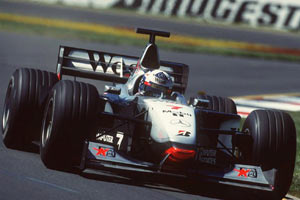 Active: 1998
Team: McLaren International Ltd

Drivers: David Coulthard (7), Mika Häkkinen (8)
Team: Adrian Newey (TD)
Team name: West McLaren Mercedes
The MP4/13 was the first McLaren car completely designed under the lead of Adrian Newey. The year before, when Newey arrived at the Woking-based team, the design of the MP4/12 was already too advanced for him to have a major influence in it.
The car was launched at McLaren's Woking headquarters on Thursday 5th February 1998 in an interim McLaren orange livery. The definitive grey and red livery was only unveiled at Barcelona on 16 February.
1998 was a massive opportunity for the McLaren team as the new FIA regulations stipulated a decrease in car width from 2000 mm to 1800 mm. Immediately during winter testing and at the season opening Australian Grand Prix, it proved that McLaren had interpreted the new rules best. Rather than also shortening the wheelbase, McLaren kept it approximately the same and ended up being around three seconds a lap faster than closest competitor Ferrari.
The was however more to the car than the longer wheelbase. As early as the Brazilian GP at Interlagos, Ferrari requested an investigation as it believed the McLaren's were running an illegal braking system. Ahead of the season though, the new system had been given the green light by the FIA technical team.
It emerged that the Italian team was thinking that McLaren was using a mechanical system that links the steering with the brakes. Ferrari argued that the system amounts to four-wheel steering which is banned under Article 10.4.1 of the F1 technical regulations.
At the same time, it also became clear that McLaren were using brake energy to generate electrical power that is stored in batteries. This electricity is then used to run auxiliary pumps on the engine to push out an additional 30 to 40 hp for a limited period.
At the end of the season, the car was still the best, although the Ferrari was more reliable. McLaren won the constructors' championship with 156 points and Häkkinen won his first drivers' title. In 16 competed races, the drivers enjoyed 12 pole positions, 18 podium finishes, 8 wins for Häkkinen and one for Coulthard.
Specifications
Chassis: carbon fiber, aluminium
Gearbox: 6 gears
Cooling system: two McLaren/Calsonic water radiators, two McLaren/Marston oil radiators.
Tyres: Bridgestone
Wheels: Enkei 13"
Brakes: AP Racing discs and claws
Dimensions
Length: 4550 mm
Front track: 1492 mm
Rear track: 1412 mm
Wheelbase: 2985 mm
Weight: 600 kg (including water, oil and driver
Engine
Designation: Mercedes-Benz FO 110G
Cylinders: 10, in a 72° angle
Valves: 4 per cylinder
Length: 590 mm
Breadth: 546.4 mm
Height: 476 mm
Weight: 107 kilogrammes
Power: 780 bhp
Oil and Petrol: Mobil
Ignition: TAG 2000
Spark plugs: NGK
---
---