Williams FW20 Mecachrome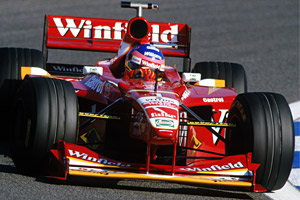 Active: 1998
Team: Williams F1

Drivers: Jacques Villeneuve (1), Heinz-Harald Frentzen (2)
Designer: Geoff Willis, Gavin Fisher
The FW20 was the first car since 1991 that had not been designed under the supervision of Adrian Newey who left to McLaren. With world champion Villeneuve aboard the team was aiming for a very good season. The red car was launched on 28 January, followed immediately by a shakedown done by Jacques Villeneuve at Silverstone. The 1997 FIA Formula One World Champion expressed himself happy with the car, but in the bitterly cold conditions at Silverstone there was nothing conclusive that could be gleaned from the shakedown, it was merely to test that all systems were working properly before heading out to Barcelona for a major test next week.
It soon turned out however that the car wasn't at the level of the Williams FW19. The basic problem was that the FW20 was an evolution of the Williams FW19. The previous was indeed a championship winner but the FIA had imposed massive regulation changes including narrowing the car down to 180cm at maximum. There was also the departure of engine manufacturer Renault. The team would use rebadged Renault engines under the name Mecachrome, a company held by Flavio Briatore.
Technical director Patrick Head said at the launch: "We are eager to see how the competition has adopted the changes. I would not say that we have any massive secrets in the FW20. We have a very sound and good base on which to build throughout the year ahead. There is nothing radical about the suspension. We have new suspension geometries but there are no new composite bits and pieces. The uprights are new, so is the cooling system, the diffuser and the wing profiles. The gearbox is still a transverse unit but it is also new, although it has the same basic layout as the one we used last year. There are lots of new details and I must say it looks to be a very promising unit. Lots of people seem to want to change to longitudinal gearboxes but I doubt that having a longitudinal gearbox rather than a transverse one is going to be a race-winning factor. And you must remember that 16 of the 17 races last year were won by transverse gearboxes."
The team later declared several design mistakes were made that could not be corrected during the season. It was in fact the worst season in 10 years for the team as they were unable to win a race. The best performances came from Villeneuve with two consecutive 3rd place finishes in Hockenheim and Budapest.
Specifications
Engine: Mecachrome GC37-01, 3000cc 71° V10
Valves: 4 per cylinder, pneumatically controlled
Electronics: Magneti Marelli
Chassis: Carbon Aramid epoxy composite, manufactured by Williams using Fiberite products
Transmission: Six-speed Williams transverse semi-automatic gearbox
Clutch: AP Racing
Cooling System: Two Secan water radiators either side of chassis; two IMI oil radiators
Brakes: Carbone Industrie discs and pads operated by AP callipers
Lubricants: Castrol
Wheels: Oz
Tyres: Goodyear Eagle radial tyres
Shock absorbers: Penske
Dimensions
Front Track: 1460mm
Rear Track: 1400mm
Wheelbase: 2914mm
Length: 4392mm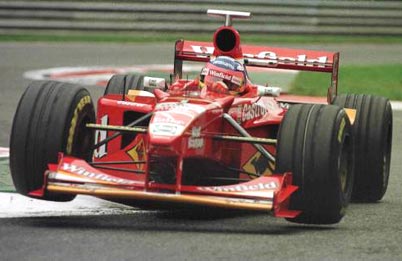 ---
---