Mercedes W196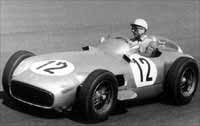 Active: 1954 - 1955
Team: Mercedes Benz
Specifications
Car: Mercedes W196
Constructor: Mercedes Germany
Year: 1954
Class: Formula 1
Engine: 8 Cilinder
Bore X Stroke: 70 x 68,8 mm
Capacity: 2,496 cc
Power: 257 Bhp at 8,200 rpm
In 1954 Auto Union was now known as Audi and no longer racing. Alfa Romeo also was out of the picture but Maserati and Ferrari, building and racing his own cars were very much in. The British teams were just beginning to make some noise. Mercedes-Benz's re-entry into Grand Prix racing did not quite cause the sensation that a previous generation's Silver Arrows did but by the end of their two year run the results were the same. The legendary Alfred Neubauer was still the team manager and the drivers were Juan-Manuel Fangio and the Germans Karl Kling and Hans Hermann. In 1955 the lineup was bolstered when the young British sensation Stirling Moss joined the team.
The new cars were powered by a normally aspired straight eight fitted with desmodromic valves and fuel injection. Power was controlled through a five speed gearbox that would prove to be a distinct advantage to their rivals four speed versions. The chassis employed small diameter tubing in a space frame design while stopping power was supplied by inboard brakes front and rear. If the running gear seemed fairly conservative for a company such as Mercedes it was the body, that most set the cars apart. Using a loophole in the rules, the cars sported an all-enclosing streamlined shell whose low bonnet line was made possible by the engine being canted on its side.
The streamlined body served them well at circuits such as Reims but the debacle at the British Grand Prix led to an open wheel version which was later driven in the remainder of the races that required a more precise placement of the car relative to the circuit's corners! Part of the improvement that resulted from the open wheel bodywork was a reduction in the streamlined versions tendency for marked understeer. The handling characteristics of the cars continued to be a problem for the life of the cars as different wheelbase lengths of 92, 87½ and finally 85 inches were tried.
The dominance of the latest version of the Silver Arrow did not match that of the pre-war era cars. The 1955 driver pairing of Fangio and Moss took care of that. Yet after two short years the Silver Arrows were withdrawn once again never to return to Grand Prix racing again. The Mercedes badged Ilmor engined McLaren cars not withstanding.
---
---