Jaguar Racing Ltd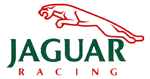 Based in: Milton Keynes, United Kingdom
Founded: 1999 (active 2000-2004)

Owner: Tony Purnell
Team manager: David Pitchforth
Designer: Robert Taylor
Chief of engines Ian Pocock
Head of aerodynamics: Ben Agathangelou
Chief engineer: Malcolm Oastler
Jaguar Racing was brought to life after Ford decided to buy the Stewart Grand Prix team that was only active in F1 since 1997. Stewart Grand Prix was founded by former F1 world champion Jackie Stewart. Just after the buyout by Jaguar in 1999 the team managed their first win with Johnny Herbert at the Nurburgring in a rainy race. The team became fourth in the championship.
At the start of 2000, Stewart Grand Prix was officially closed and replaced by Jaguar Racing. Vice world champion Eddie Irvine joined the team to replace Rubens Barrichello, who went on to Ferrari aside Michael Schumacher. The first year for Jaguar however was a huge dissapointment as they had to cope with serious reliability problems. Johnny Herbert left F1 at the end of that season in which only Irvine managed to score some points with a 4th place at Monaco and a 6th in the Inaugural Malaysian GP at Sepang.
The problems were only the beginning of the problems for Jaguar. The team's management was profoundly restructured and Bobby Rahal took charge. After the 4th race however, Brazilian driver Burti was already sacked and replace by De La Rosa. Together with him came Niki Lauda who took the seat of Rahal to get the team out of problems. The car was a true disaster at the beginning of the season, but gathered pace towards the end of the season after some design philosophy changes under the lead of Lauda.
Next year's Jaguar R3 was again a failure which was even slower than the Jaguar R2 at the end of 2001. That disappointment saw Lauda leave the team.
The last two years of Jaguar racing saw better performance with especially Mark Webber being highly competitive, especially in Qualifying. Webber however left at the end of 2004 to join Williams while the team was sold to Red Bull Racing.
Cars