Jaguar R5 Cosworth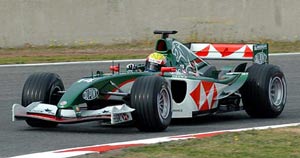 Active: 2004
Team: Jaguar Racing Ltd

Designers: Ben Agathangelou (HA), Nick Hayes (TD of Cosworth), George Lendrum (of PI Research)
Drivers: Mark Webber (14), Christian Klien (15), Björn Wirdheim
The Jaguar R5 was destined to continue the upward trend that was set a year earlier by the R4. The management group had remained stable and the aerodynamic department at the time was 2 times as big as it was in 2002. Jaguar Racing also intensively used the nearby wind tunnel of Bicester and a second tunnel had been purchased in Bedford to put even more tools at their disposal. Apart from the aerodynamic enhancements, the new Cosworth CR-6 implements the new 'one engine' rule but afterwards appeared far from reliable enough.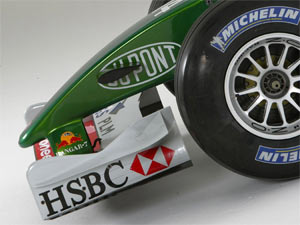 Additionally, the team inaugurated a new departement, Vehicle Science, aimed to perform CFD tests before testing each and every component in the wind tunnel. Department head Chris Hammond was in chief of an operation that intended to "dramatically increase performance and reliability over the season to come". PI Research strengthened the team in the electronics departments.
For the first time in years, the new Jaguar car is an evolution of its predecessor, contrary to the radical clean sheet strategy. Ben Agathangelou explained: "We have learnt so much from last year's R4 by working in a low-risk, conventional fashion and now that we have stability within every department of the team it has given us a chance to push really hard to make the new R5 an improvement. It has been an education for me because it's the first time we have had a car that we trust and understand pretty well. That has meant that we could refine and evolve it rather than take a few risks, which is what we had to do in the past."
Unlike previous Jaguar Racing F1 cars, the new R5 was finished by the middle of December 2003. But it didn't actually turn a wheel until mid-January, which gave the team a whole month to test the systems before it ever went out on the circuit.
"This measured approach to the car's design and construction varies considerably from that of many other Formula One teams", says David Pitchford. "Our competitors tend to run new aerodynamic parts on their existing car throughout the winter before unveiling their new model much closer to the first race of the season. Jaguar Racing's method is intended to give all the mechanical and electronic systems (suspension, engine, gearbox, traction control) a thorough work-out on the factory-based testing rigs and still leave enough time to iron out problems."
The thoroughness of the development programme has also given more time to improve the aerodynamic shape of the car. The good work carried out in 2003 has allowed Agathangelou's department to push certain areas of the design but without ever taking unnecessary risks.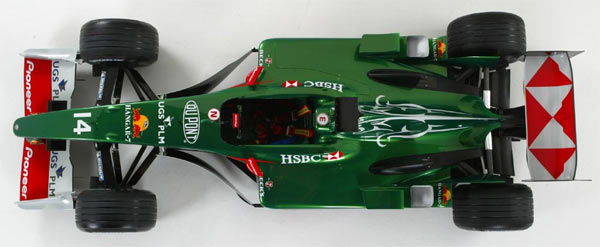 At the same time, the team built a drive simulator and paid high attention to the driver's ergonomics in the car. Vehicle Science head Chris Hammond revealed that a high-tech ergonomics programme used by Jaguar Cars called 'Jack' has helped to tailor the cockpit to fit the drivers: "Jaguar Cars use 'Jack' to design cabins that fit people of all shapes and sizes. We realised it could be used to make the F1 car's ergonomics much better. The user-interface between the steering wheel and the driver was not up to standard, for example, so we modelled our drivers on the 'Jack' computer and used that data to shape a new wheel. The ergonomics experts have also helped us with positioning buttons so that the drivers reach them intuitively."
Specifications
Designation: Jaguar Racing R5
Chassis: R5 composite monocoque structure, designed and built in-house, carrying the Cosworth Racing CR-6 V10 engine as fully stressed member.
Transmission: Jaguar seven-speed gearbox, longitudinally mounted high-pressure hydraulic system for power shift and clutch operation. AP Racing triple-plate pull-type clutch. Independent oil system using Castrol Fluid Technology.
Front Suspension: Cast titanium uprights. Upper and lower carbon wishbones and pushrods. Torsion bar springing and anti-roll bar. Koni damper layout.
Rear Suspension: Cast titanium uprights. Upper and lower carbon links and pushrods. Coil springs and torsion anti-roll bar. Koni damper layout.
Brakes: AP Racing lithium alloy six-piston callipers. Carbon Industrie or Brembo carbon/carbon discs and pads.
Wheels: OZ Racing Front: 12.7 in x 13 in Rear: 13.4 in x 13 in
Tyres: Michelin.
Electronics: Pi 'VCS' System. Integrated engine/chassis electronic control system.
Engine
Type: Cosworth Racing CR-6 90° V10
Capacity: 2998 cc
No. of valves: 40
Max engine speed: 18,000rpm.
Engine materials: Aluminium block and heads cast in Cosworth Racing's own foundry. Aluminium alloy pistons. Steel crankshaft.
Engine Management: Pi Research.
Ignition System: Cosworth Racing.
Spark Plugs: Champion.
Fuel: Castrol Racing Fuel.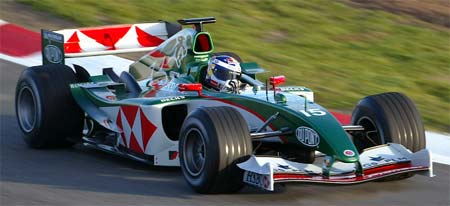 ---
---