Jaguar R2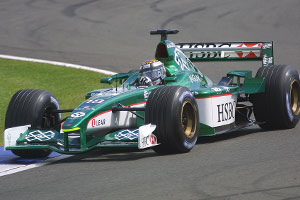 Active: 10-01-2001 - 2001
Team: Jaguar Racing Ltd

Team: Bobby Rahal/Niki Lauda (Principal), Steve Nichols (TD), John Russell (CD), Mark Handford (CA)
Drivers: Eddie Irvine (18), Luciano Burti (19, 4 races), Pedro De La Rosa (19)
Even though team principal Bobby Rahal initially claimed that the inside of the R2 was very innovative, in reality the team went a more conservative route after a very difficult debut season in 2000.
Along with BAR, Jaguar was the first team to shakedown its car at Silverstone on 10 January, a single lap run done by Luciano Burti. Soon after that shakedown, the team was shaken up itself as Rahal was fired following a failure to lure McLaren's designer Adrian Newey into the team. Niki Lauda joined the team as CEO of Jaguar's Premier Performance Division, claiming he would bring Jaguar to the forefront of Formula One.
"I'm going to London because Jaguar has not won anything yet, and that's why I decided to accept the challenge. To be honest, the offer came at just the right time. I'm going to put Jaguar at the top of Formula 1. It's a new phase in my life. I'll have to start at zero."
Eddie Irvine however soon cast doubt over the car's potential in 2001 and would later be proved right.
"We have done a lot of work but we have not done some things that needed to be done. It (the car) is a bit too slow.", Irvine said on 16 February, halfway into winter testing. "We are a bit understaffed. We have lost some mechanics and engineers, some good people. We have brought some people in but we need to attract some more good people. Lauda can bring a lot to the team. He is a clever guy with a good brain and we need to use that for the best. I have to use him and the whole team has to use him. He will also have the ear of the big bosses and can make them realise what we need."
The team and its car failed to impress. Burti was replaced by Spaniard De La Rosa after 4 races, but it was Irvine who scored the lion's share of points in 2001, highlighted by a single 3rd place podium finish at the Monaco Grand Prix. Jaguar ended the championship 8th with 9 points.
Specifications
Chassis: R2 composite monocoque structure, designed and built in-house, carrying the Ford Cosworth CR3 engine as fully stressed member.
Gearbox: Jaguar magnesium-cased seven-speed gearbox, longitudinally mounted. High-pressure hydraulic system for power shift and clutch operation.
Clutch: AP Racing triple-plate, pull-type. Independent oil system using Texaco Fluid Technology.
Suspension Front:Carbon wishbones and pushrods. Torsion bar springing Jaguar/Bilstein damper layout.
Suspension Rear: Carbon wishbones and pushrods. Torsion springs Jaguar/Bilstein damper lay-out.
Brakes: AP Racing lithium alloy six-piston calliper. Carbon industrie carbon fibre discs and pads.
Wheels Front: 12.5 in x 13 in
Wheels Rear: 13.4 in x 13 in
Tyres: Michelin
Electronics: Pi 'VCS' system
Braking system: Carbon fibre discs and pads.
Engine
Designation: Cosworth CR-3
Type: 72° V10
Number of valves: 40
Capacity: 2998 cc
Maximum output: Not disclosed
Maximum revs: 18000 rpm
Construction: Cast aluminium alloy block and heads, forged aluminioum pistons. Steel crankshaft.
Engine management: Pi
Lubrication System: Dry Sump
Ignition System: Cosworth Racing
Spark plugs: Champion
Weight: 97 kg (including ballast)
Length: 569 mm
Width: 490 mm
Height: 490 mm (including airbox)
---
---