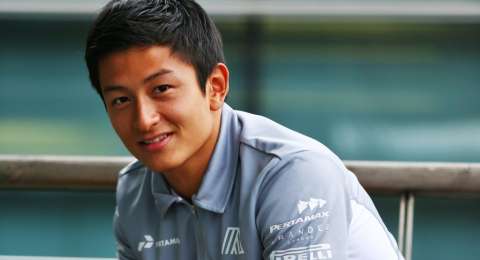 Rio Haryanto, the one and only Indonesian auto racing driver in Formula One to date.
Almost every Indonesian young drivers are struggle to F1 graduation because of funding and SuperLicence points requirements for F1 graduation (40 points). Only Rio Haryanto can manage the F1 graduation in 2016 but sadly Rio Haryanto's F1 season was cut short due to lack of funding and sponsorship. Sean Gelael is only the Indonesian hope of F1 graduation is ultimately impossible for F1 graduation due to lack of SuperLicence points (Gelael still 6) and also Gelael is always struggle in GP2/F2 despite scored 2 podiums overall in GP2/F2 (Red Bull Ring 2016 and Monte Carlo 2018) but all those Gelael's podiums are fluke due to his opponents mostly crashed. Presley Martono is the last Indonesian hope to graduate to F1 in the future but sadly Martono cannot race due to Martono studied in USA. Sorry to say, but i admit motorsport in Indonesia are more expensive than football. Ananda Mikola was also close to F1 graduation in 2002 but due to his bad attitude and lack of good form prevented Mikola for F1 graduation that time. I'm sad to see Indonesia fallen behind other SEA countries in motorsports in the last 25 years.
Lack of regeneration and nursery will hurt Indonesian motorsports future i believe. Indonesian Motorsport Association is now being a corrupt and messy federation right now like football.
Your opinions?