Pushrod/OHV/cam-in-block advocates are always pushing the advantages of pushrod engines... That they are physically more compact, simpler, lighter (though crucially not the valve-train reciprocating mass): they say they "just work" and are pretty much all-round great!
Given this, what is the feasibility of a pushrod engine in Formula One? When was the last pushrod engine in Formula One (60's? or was it earlier or later than that, I have no idea)?
Is the Mercedes-Illmor 500I 1.8 bar turbocharged 16-valve 3.43L V8 (supposedly 1024 bhp @9800rpm, max 10,500rpm) the last modern purpose-built racing engine with a pushrod design (aside from
production-derived
racing engines like the Ford Windsor BOSS, Chevrolet small-block and so-on including the purpose-built Toyota NASCAR engine made to similar specifications)? Or are there others?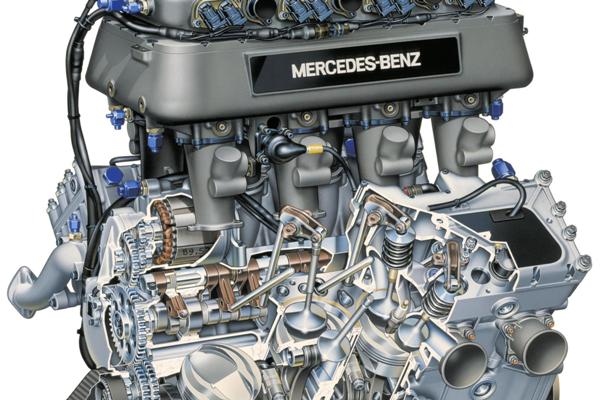 Likewise how about in CART/USAC? I notice that Indy racing was long dominated by the DOHC Offenhauser engine just as Formula One was (later) dominated by the DOHC Cosworth DFV engine. [Where were there advantages exposed by pushrod engines advocates when Offys and Cossies were winning everything?
]
With regards to the engine speed limitations, I recall reading
here
that innovative well-manufactured valve springs allowed production-based larger capacity NASCAR Cup engines to push-up towards 10,500rpm (from a former 8000rpm or so in about 1998), albeit this has since been restricted by the rules if I understand right.
https://www.popularmechanics.com/cars/a ... r-6643778/
Also, if pushrod/cam-in-block engines have all these advantages, how come most modern ICE road cars -- small hatchbacks, medium SUVs and so on (which let's face it are all about being built as
economically as possible
by the manufacturer, like the reasonably-priced Dacia Sandero
and mostly all the others too) -- use overhead-cam engines of some description (albeit chain or belt driven overhead camshafts, rather than gear-driven overhead camshafts like a racing engine)?
[ I put both terms as the title, as it seems like some people object to calling pushrod engines "OHV" engines since OHC engines are also OHV, so it's an imprecise name for identifying cam-in-block engines.
]
Out of interest's sake here is said Toyota engine:
Cutaway:
https://i.ytimg.com/vi/Oo8DoRitG6U/maxresdefault.jpg
Complete:
https://www.speednik.com/wp-content/blo ... cingv8.jpg
While this is the more common production-based Ford alternative (a V8 Supercar example which allows intake trumpets and eight throttles):
https://media2.speedcafe.com/wp-content ... 4e91_k.jpg
And for comparison's sake a production-based Nissan DOHC engine built of the same capacity built by the same V8 Supercars racing team, showing the larger physical size of the overhead cam layout:
https://d3lp4xedbqa8a5.cloudfront.net/s ... ne-(6).jpg