Hi Guys
I hope this is allowed since there's not much F1 relevance:
For yours I'm walking around with the idea's what to do, should I ever win the lottery. I guess I'll never win it.
I would like to bring an idea past you and see what you think. I've been thinking why one almost never see's
very
small turbo's next to
very
big ones sequential or compounded. Like this one:
I've seen small/big combo's, but almost never a big difference and mostly parallels. Probably because my idea is hard to get right and expensive, but even in racing it's rare (I think)
I would think this would be an excellent idea. Sticking to a 2 liter inline 4 as a reference, a very small one could spin as early as 1 bar @1500 rpm and perhaps 1.5 at @1750, turning the engine into a 4 to 5 liter from than point on. The very big one would then react on this volume and start at say 3000 (up to 8000), whereas it would have only started spinning at 5000 without the small one. (Just some figures out of my head.)
With this in mind, a 2 liter with 600 bhp's that doesn't have a turbo lag of 2 months, would not be very hard. A check to sadev for a 4 x 4, 1000 Nm gearbox would be advisable though. It will probably break more than temptation island. Not cheap, but possible.
As with the nizpro in the picture, I would think the small one would need to be exhausted though the big one. I would think it should at least start to be waste gated at 0,5 bar lower than the big one. If the small one would be at 1.5 and the big one at 2 bar for example, otherwise the small one would surely reach breaking point rpm at 4000 engine rpm orso. A very big waste gate would be needed closed at 1.5, yet fully open at 2, and in turn also be fed into the big ones exhaust inlet. It would be hard to select a pair that's are a perfect match for sure.
The inlet air would also need to be diverted in a way the big turbo will not surge the small one somehow. What do you think?
Parallel to this I would like to ask what you think about twin turbo's fed from
1 valve each cylinder
. Hard to do, but Lancia did it ones.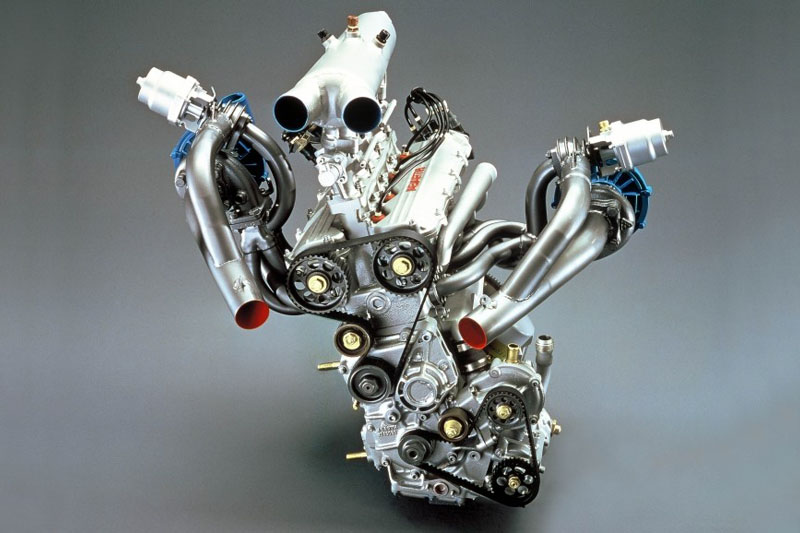 Since I'm a Peugeot man (sorry) underneath PSA UX and EW engine heads will also have that option, albeit the plumbing would be hard.
This twin turbo fed from 1 valve each cylinder will work fine with 2 equally big turbo's, but what about 2 different sized ones? Would the path of least resistance be taken dominantly, even when the paths split so early in the head, being so close to the actual explosions? It would think the first pulse in the exhaust, the actual leftover from the explosion, would not take the path of least resistance very much, yet the actual outlet stoke will by some extend.
I hope my English is good enough so you understand my twisted mind.