Base on previous analysis (
viewtopic.php?t=30329
), I continue my analysis and go deeper into flow structure, more iterations, here is the report.
[Besides, could anyone help me to connect to aerodynamicist or HR of F1 teams? I really hope to get a job there
]
1. Compliance
The pictures below show my CAD model's compliance to regulation, including control volume/surface, fence direction, cross section shape, curvature, etc. I choose wheelbase 3500.
​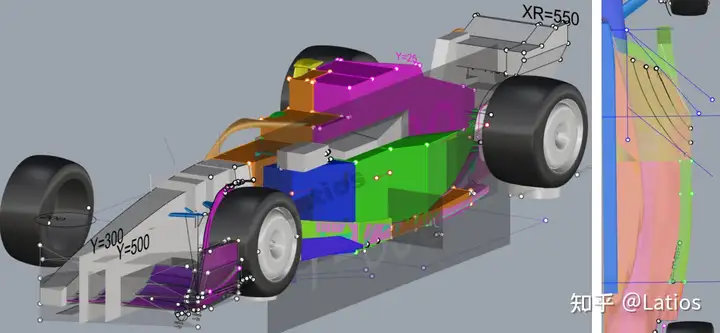 2. CFD method:
RANS+ SST turbulence model
Steady Flow (Transient simulation is too time-consuming for the PC)
Mesh: unstructured mesh, 60 million cells for half model (the PC's memory cannot hold full model 120 million cells). Split space around car to 5 parts: around front wing, around front wheel/suspension, around rear wing, middle body, far. Design of the car can be corresponding separated to 4 parts and optimized separately.
​



3. Summary
I analyze flow data and optimize for maximize downforce, get ClA from 5.0~5.8, CdA 1.5~1.7 for different rake angles. Currently not consider reduce CdA, so drag may be too much, and the downforce and drag don't include momentum change of internal flow.
​

My iteration reaches 70+ versions, here I gather some part of notes when comparing versions and analyze flow structure:
​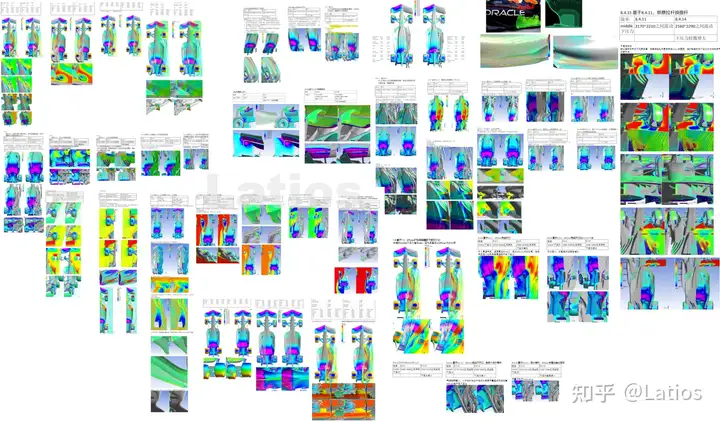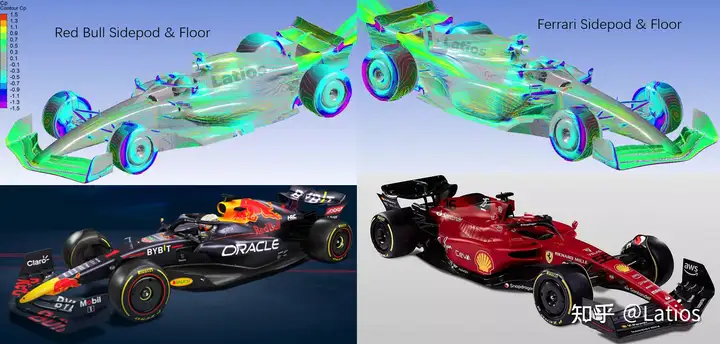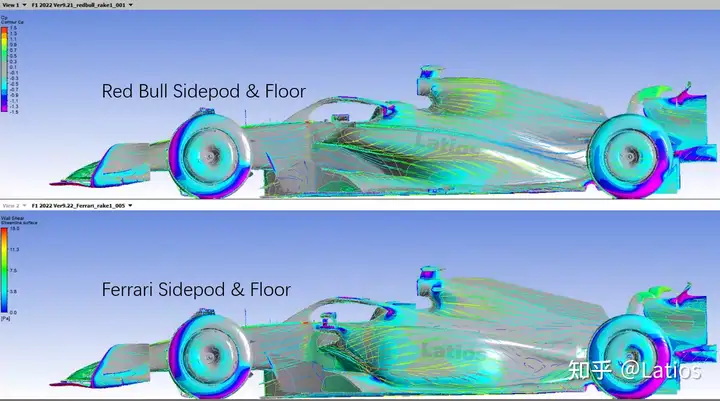 4. Key Flow Structure: 3 vortices, I call them "edge up vortex" "edge down vortex" "fence vortex"
​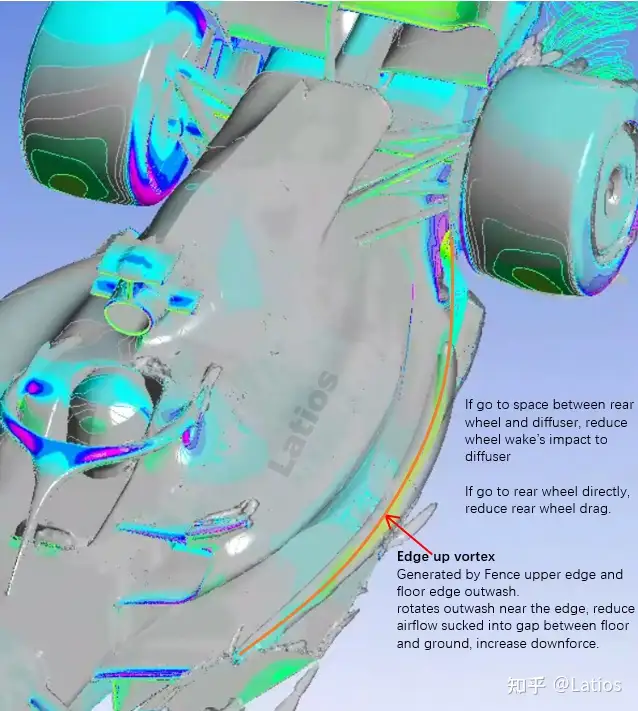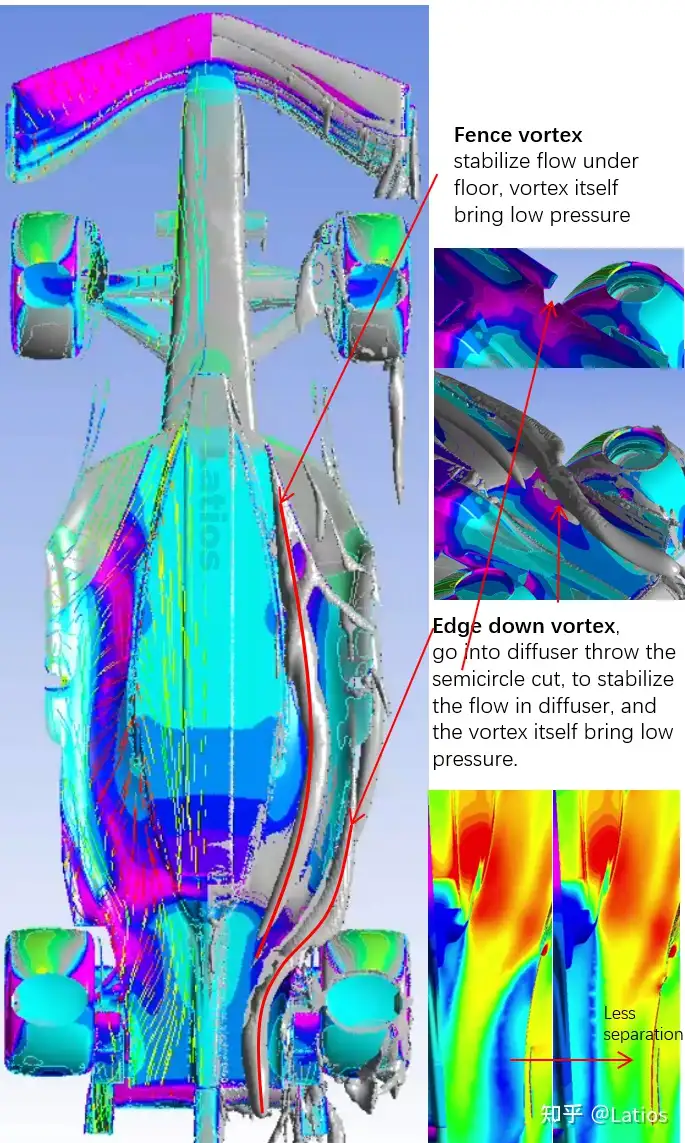 5. Compare between Red Bull and Ferrari, focus on sidepod, engine cover, fence, floor edge:
​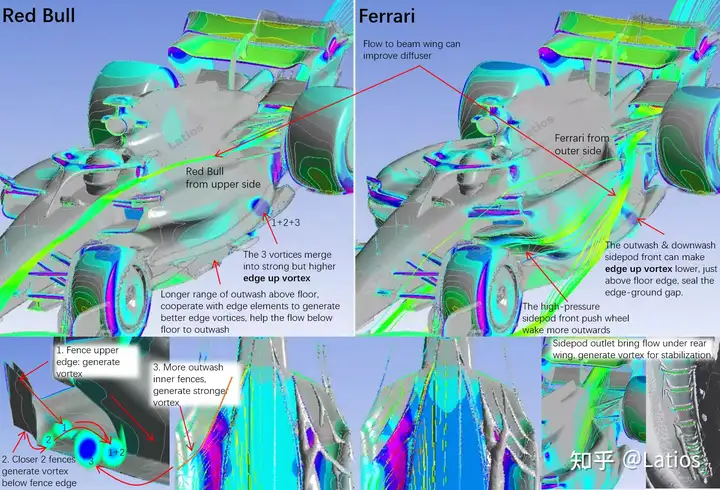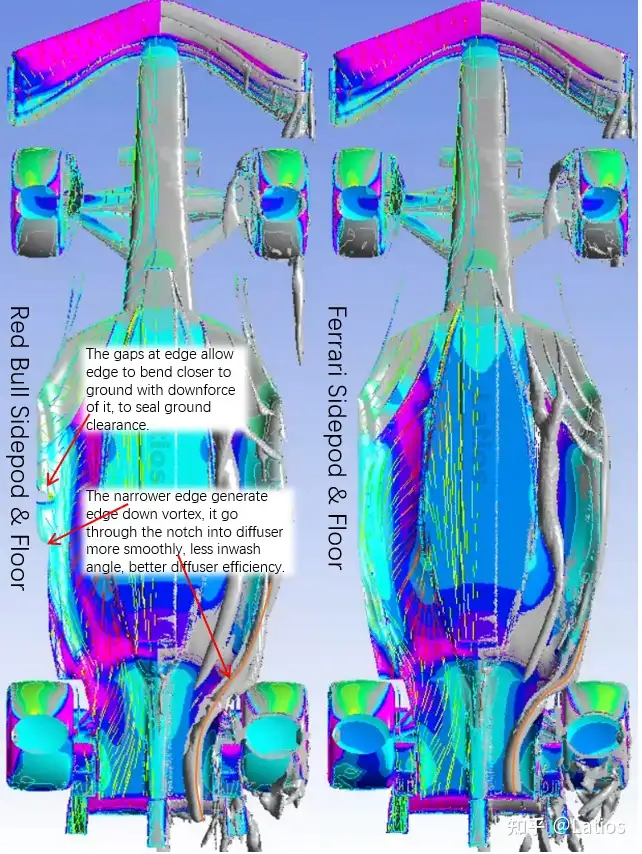 6. Flexibility of floor edge
The floor edge can utilize its flexibility to bend downward at high speed, reducing the distance from the ground, significantly reducing the airflow involved in the bottom of the car, and significantly increasing the downforce. But in regulation of 2023, the flexibility is reduced.
The picture below shows the ground clearance when the McLaren is just out of pit and the ground clearance when running, and the similar difference of my simulation. With bended edge, downforce increases significantly, and the core is the bending reduce the in-wash under the floor edge. Red Bull's floor edge may also utilize the flexibility.
​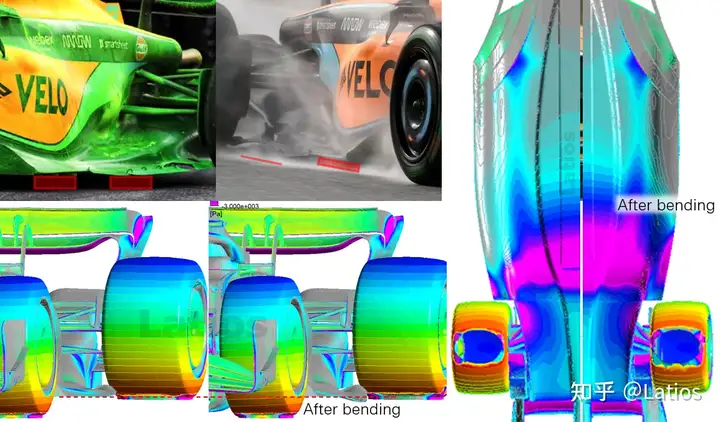 7. Rake angle
​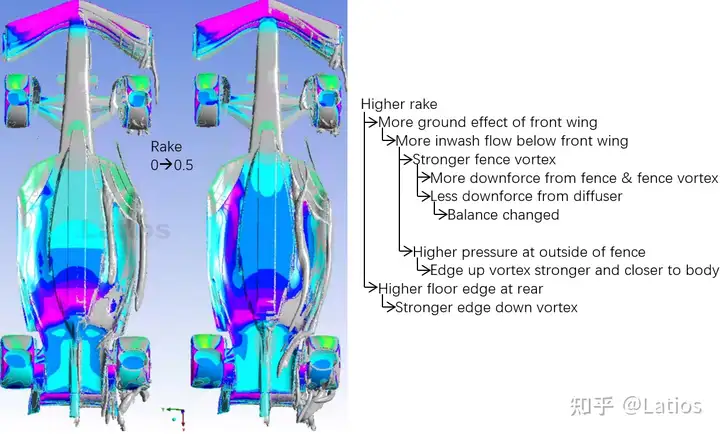 8. Different diveplane outwash effect
​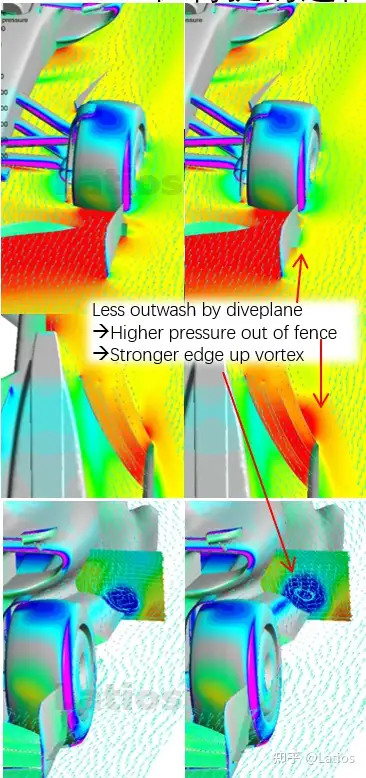 9. Some other detail
​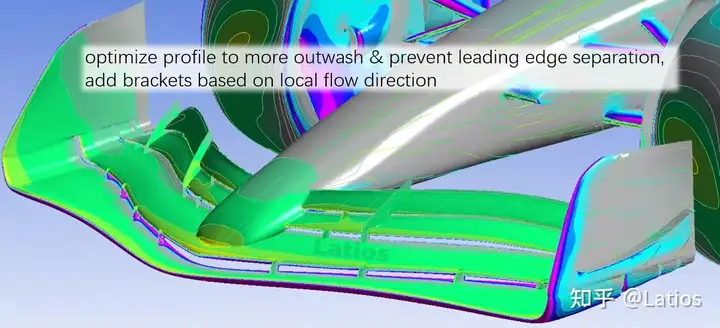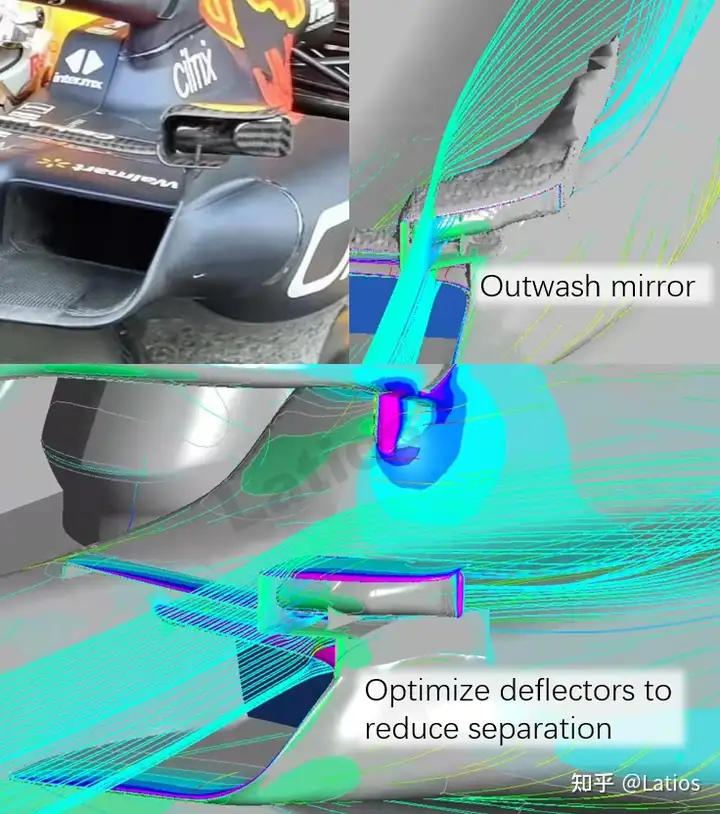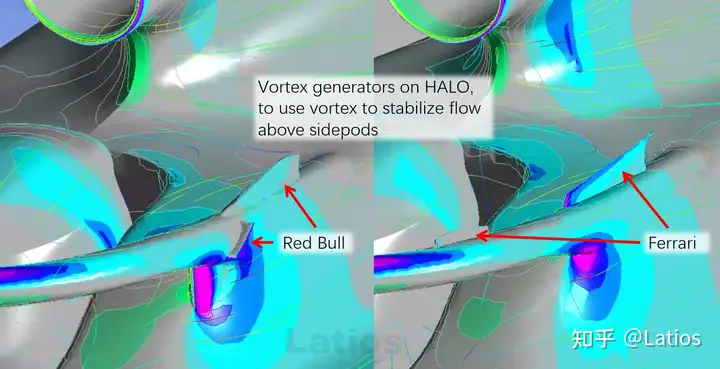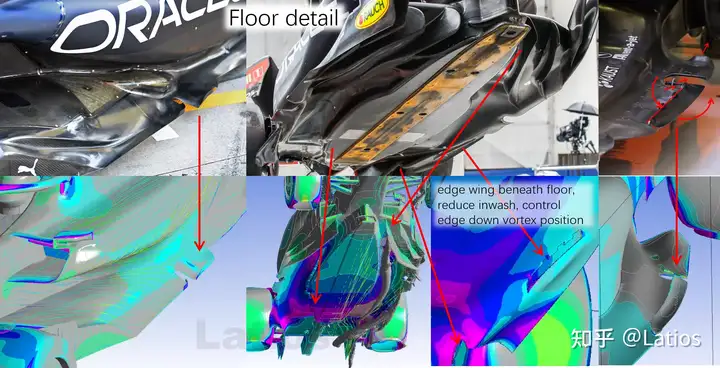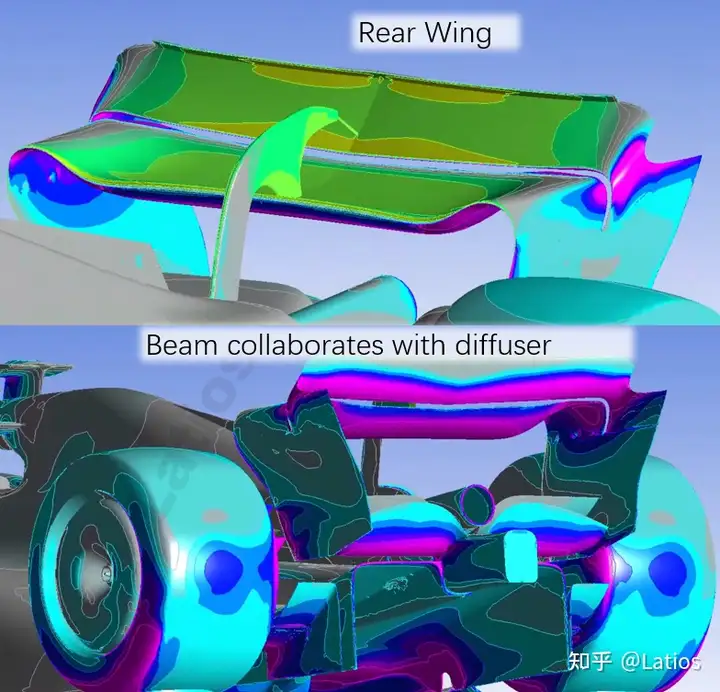 10. I've checked regulation of 2023, higher floor edge needs more design iterations. Higher floor make less lost for high rake cars, such as Redbull. So I predict Red Bull can defend the champion in 2023.
​