Red Bull RB7 Renault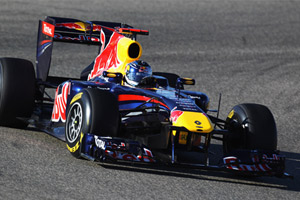 Active: 2011
Team: Red Bull Racing

Team: Adrian Newey (CTO), Petr Prodromou (CA), Christian Horner (TP)
Drivers: Sebastian Vettel (1), Mark Webber (2), Daniel Ricciaro (31, Reserve)
Championship winners Red Bull racing launched their car on 1 February at Valencia to put it out immediately on track. Contrary to its predecessors, it ran without problems during the first four days while also being among the fastest cars on track.
Red Bull's RB7 is a careful evolution of the Red Bull RB6, which on its own behalf was already an step up from the Red Bull RB5. Adrian Newey, the team's mastermind, is known for such a cycle, with impressive innovation at times, while carefully improving its cars when they are at their best.
The changes on the RB7 were again influenced by regulation changes. The ban on double deck diffusers mandated a much simpler version, allowing the technical team to again exploit their pull rod rear suspension which they introduced in 2009, also with the idea of running a simple diffuser.
KERS also sees its return, with the the Red Bull being equipped with a system provided by Renault. That comes together with the RS27 engine, a partnership that enters its 5th year. Even though this adds some mass and volume, the car has been further slimmed down at the rear, with exhausts blowing over the diffuser.
Newey said at the launch: "The big challenge for us this year was the reintroduction of the KERS system. It's always a challenge to find solutions, which don't compromise the aerodynamics of the car. This season, with McLaren, Ferrari and Mercedes all having KERS, we need to get it to work, simply for performance off the line."
At the car's presentation, there was still a simple exhaust system with pipes exiting through the sidepods, but already at the second day of testing, Red Bull added a carbon fibre channel on its floor to guide the exhaust widely spread over the diffuser, without being influenced by airflow upwards of the exhaust stream.
Looking at the front of the car, the nose has become a little wider and higher compared to the RB6, just like most other 2011 cars. The front wing remained largely the same. The bulges atop of the nose have become less pronounced, and due to the changed shape of the front-end, the location of the front suspension mounting points was also changed, just like at the rear where the pullrod is now longer as the rocker was moved forward due to the smaller sidepod shape.
In essence, these modifications perfectly show the approach the team took when developing the RB7. Overall, the car also features an apparently longer wheelbase compared to its predecessor, simple rear view mirrors with short vertical supports to reduce their drag penalty. Atop the car, the shark fin was retained as much as the regulations allowed. The new rear wing flap adjuster is hidden in a vertical fence in the middle of the rear wing, in line with the shark fin cover.
Specifications
Chassis: Composite monocoque structure, designed and built in-house, carrying its engine as fully stressed component
Transmission: Seven-speed gearbox, longitudinally mounted with hydraulic system for power shift and clutch operation.
Clutch: AP Racing
Wheels: OZ Racing (front: 12.0in x 13in / rear: 13.7in x 13in)
Tyres: Pirelli PZero
Front suspension: Aluminium alloy uprights, carbon composite, double wishbone with springs and anti-roll bar, push rod actuated
Rear suspension: Aluminium alloy uprights, carboncomposite double wishbone with springs and anti-roll bar, pull rod actuated
Dampers: Multimatic
Brakes: Brembo calipers, Brembo carbon discs and pads
Electronics: FIA (MESL) Standard control unit
Fuel: Total Group
Engine
Designation: Renault engine RS27-2011
Configuration: V8 in 90° bank with 32 valves in total
Capacity: 2400cc
Max. RPM: 18,000RPM (as limited by regulations)
Construction: Cylinder block in cast aluminion
Engine management: FIA (MESL) Standard control unit TAG310B
Oil: Total Group
Weight: FIA minimum weight of 95kg
---
---