Red Bull adds rear wing endplate fins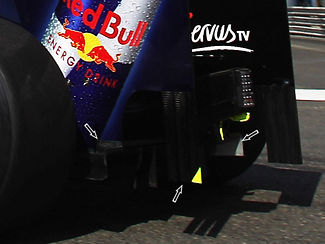 Since the Spanish Grand Prix, Red Bull have new rear wing endplates that feature an extension behind the diffuser. Pioneered on the Toyota TF109, McLaren have been using a similar design since the beginning of this season, and as of the Spanish GP have gotten company by Ferrari and Red Bull. All designs feature a number of fins, considered in the regulations as part of the rear wing endplate.
Because they are allowed to extend down to the level of the reference plane, they are particularly interesting to help diffuser efficiency. The fins help guide air away from the centre of the car, reducing the air density in the central part behind the diffuser and guiding air into the rear wheel's wake. As such, downforce can be increased while the drag induced by the wheels' wake can be reduced.