Hispania continue use of low downforce rear wing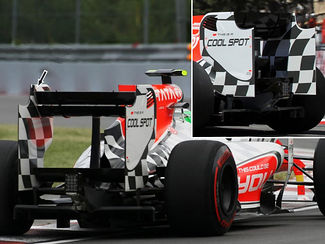 Hispania have chosen to continue running their lower downforce rear wing specification at Valencia after introducing it at Canada. The wing's endplates are identical to the previous specification rear wing, but the main flap has been reduced in size.
Particular about this wing is that it's not fixed at the maximum height of the rear wing, but instead is a bit lower to the ground. In fact it's the lower possible according to the regulations. While Red Bull have gone the other way with their Canadian rear wing, the lower position hides the rear wing a bit behind the airbox. It should theoretically have a little less drag than when mounted at the maximum height, but will also offer slightly less efficiency.