Major aerodynamic update on Sauber C30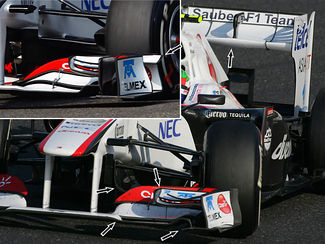 Sauber introduced a major upgrade on its car, consisting entirely of aerodynamic parts. The team was struggling in the last few races to keep up with its pace earlier on in the season and with it at least a point scoring finish was made possible again. The team though mentions that the update package was planned for a long time and is not a reaction to disappointing performances.
Included in the update is a new rear wing, now with a curved up leading edge in the middle part of the wing, along with different sidepod tails, allowing hot air to exit from the sidepods higher above the ground than before.
A new front wing was also introduced, now featuring a wider, centrally supported stacked panel that now connects to the outer element of the endplate, rather than the inward part as was previously the case. The endplate redesign also shows many detail changes in how the wing connects to the endplates.
At the connection point to the mandated central section, the wing was also completely revised, rigidly fixing the lower flap onto the main plane.
All these changes of course greatly influence airflow onto the splitter and towards the car's floor. That is also why new turning vanes were added to the car, underneath the nose cone.