Williams tweaks front wing at Korea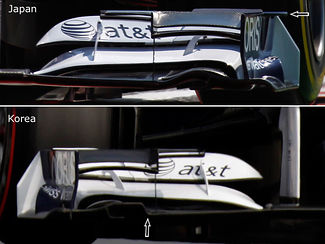 Williams F1 have introduced another new front wing update at Korea. The British team have certainly taken up an aggresive front wing development programme this year, somewhat similar to what Renault did in 2010. Contrary to the Renault R30 though, Williams' car updates don't seem to move them upward the pecking order.
The new update is a slight modification of the Japanese GP front wing design. It shows a modified leading edge of the main profile, as well as the removal of a horizontal vane on top of the end plates.
Williams have been running similar designs since the very beginning of the season and interestingly Ferrari have now copied some key elements of Williams' front wing in its new experimental design, including more outward endplate and a steeper flap ahead of the front wheels to better manage airflow along the tyres.