Williams tests 2012 exhausts on FW33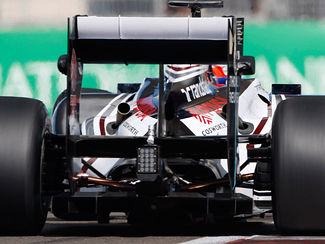 Williams was the first team at the Abu Dhabi young driver test to come out of the garage with a considerably different car compared to its current FW33. With regulations for 2012 mandating periscope exhausts to stop off-throttle blowing, the team is already trying a configuration to at least get some track data on the new layout.
As commonly seen during these tests, the Williams team has also added some sensors to verify its simulations. Just like at several Friday practices, torsion sensors are fitted to the drive shafts, while a large sensor box was added on each outer side of the rear wing endplates.
Interestingly, the team have also quite drastically modified the sidepod covers. A slight bulge now features on the upper side of the sidepod to make room for the upward exhaust. The hot air outlet of the sidepods has also been reshaped, now allowing air to exit low above the diffuser, a design similar to the FW33 early on the in season, before Williams changed to a more Red Bull alike configuration. Considering the inward direction of the exhaust outlets, the change makes sense as it allows for a cleaner exhaust flow onto the central part of the rear wing.