Red Bull debuts new RB8 chassis, different exhausts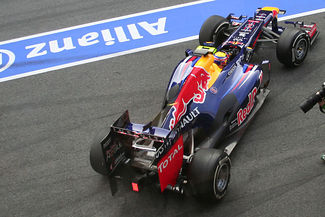 Red Bull Racing are today fielding an entirely new chassis after getting it flown over this morning from the team's headquarters. While the car also features new wings, which will be covered later today, the most interesting change is an entirely different exhaust position.
While the old exhausts were located very much inboard, blowing right under the upper suspension arms and into the centre of the beam wing, the new exhausts are nearly as far outboard as they can be, and are quite similar to what Sauber has been doing on their C31.
Just like at McLaren, this is likely to have implications on the floor bodywork, as it will now be exposed to much more heat compared to with the original exhaust position. McLaren have also experienced increased rear tyre wear, something that Red Bull is wary of and will surely find out more about in these next two days.
To aid the downwash, that is the effect to get the exhaust flow as low as possible above the diffuser, the team have also modified the tail end of the exhausts. While they previously were tapered to be high and narrow, the new ones are wider, but slope down gradually to the car's floor. There is however still an undercut, allowing for air to flow under the slope, while exhaust gases are pulled down over the slope.
In essence, this will provide a somewhat similar effect to last year's blown diffusers, albeit that the increased distance between the diffuser and the exhaust will reduce the effect somewhat.
Interestingly, this type of difuser blowing was also what Ferrari attempted to do with their initial exhausts, but they reverted to more central exhausts at the beginning of this second Barcelona test.