Red Bull adds sidepod duct to blow diffuser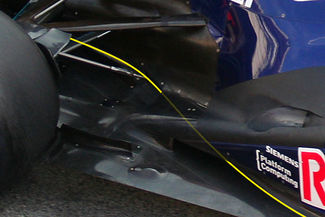 Apart from the changed exhaust position, the Red Bull RB8 now features something that no other team has thought of yet. Not only did the team create a nice slope on the upper side of the sidepods to get the exhaust down onto the top of the diffuser, it also has a duct underneath.
The duct simple pulls air towards the inside of the car, just like is usually the case with a narrowing sidepod. The airflow in the central part of the diffuser is particularly interesting, as teams are allowed there to have a small opening into the diffuser so that the starter can be fitted when the car stalled in the pitlane.
It is crucial that as much air as possible is fed into this, albeit small, opening, as it basically provides the same effect as a double diffuser. As this central airflow would potentially be lost by the change of sidepod shape, a ducted sidepod like this both retains central airflow and allows for a downwash on the exhaust gases, gaining diffuser efficiency both on the central part as well as on the outer extremities because of the powerful exhaust flow.