McLaren focuses on front end development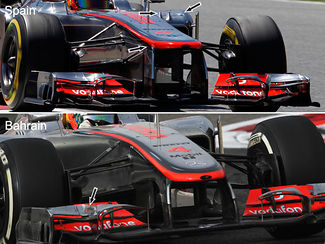 Since their dismal Bahrain GP where the team only caught a mere few points, McLaren have introduced several new parts on its car, mainly on the front end. Team principal Martin Whitmarsh commented earlier this week that regulations are now so strict that there is often more to gain by optimizing the front in order to get more quality air to the rear of the car, rather than actually developing the rear.
Already on Friday at Barcelona, the team's car featured a new, raised nose after seeing all other teams run noses that are close to the maximum allowed height. As the monocoque itself remained unchanged - anything behing the front bulkhead remained unchanged, McLaren still don't have an optimal solution for airflow towards the car's floor, but with the advantage of nose having a step on the upper side of the nose.
Further small changes include the removal of the slit in the front wing stacked element, while 2 fins were added on top of the sidepod. McLaren have here carefully copied Lotus' solution. A final new item is a small outlet on top of the sidepods, similar to the Red Bull RB8.