McLaren MP4-27 Mercedes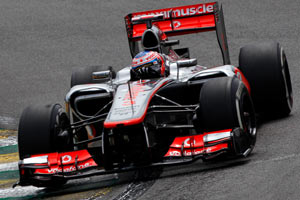 Active: 2012
Team: McLaren International Ltd

Team: Tim Goss (Director of Engineering), Paddy Lowe (TD), Neil Oatley (DRD), Martin Whitmarsh (TP), Jonathan Neale (MD), Sam Michael (SD)
Drivers: Jenson Button (3), Lewis Hamilton (4)
Team name: Vodafone McLaren Mercedes
McLaren presented its MP4-27 on 1 February, showing a car that is a thorough evolution of its predecessor. Continuing with its same driver lineup and retaining nearly the entire technical group, the new McLaren soon proved to be an efficient car, fastest at many races in 2012.
The car does away with the U-shaped upper side of the MP4-26 as that designed proved inefficient in combination with the changed exhaust regulations. As the FIA tried to clamp down on the blown diffusers with exhausts exiting close to the car's floor to energise the flow of the diffuser (or seal it off to create a lower pressure underneath the car), exhaust positions were severely limited. The Woking based team however had a solution to this problem, already at the car's launch. By adding a channel behind the exhaust as part of the sidepod, McLaren pioneered the possibility to bend down exhaust flow onto the diffuser, still retaining some of the effect that the exhaust designs of 2010 had. Many teams copied the exhaust layout throughout the season, with only Red Bull Racing and Sauber opting for a different layout, but with the same effect.
Although McLaren were spot on with the exhausts, it soon turned out that the low front bulkhead and nose were a design mistake. McLaren introduced a different, higher nose and later a new monocoque on the 2013 car to further increase the height of the nose.
McLaren finished the 2012 F1 championship in third place with 378 points after its drivers secured 7 wins in 20 races. Despite the raw speed that was usually showcased by Lewis Hamilton's pole positions, the car failed to do better, mostly due to various mechanical failures.
Specifications
Monocoque: McLaren-moulded carbonfibre composite incorporating front and side impact structures
Front suspension: Inboard torsion bar/damper system operated by pushrod and bell crank with a double wishbone arrangement
Rear suspension: Inboard torsion bar/damper system operated by pullrod and bell crank with a double wishbone arrangement
Electronics: McLaren Electronic Systems. Including chassis control, engine control, data acquisition, dashboard, alternator, sensors, data analysis and telemetry.
Bodywork: Carbon-fibre composite. Separate engine cover, sidepods and floor. Structural nose with integral front wing.
Tyres: Pirelli P Zero
Radio: Kenwood
Race wheels: Enkei
Brake callipers: Akebono
Master cylinders: Akebono
Batteries: GS Yuasa Corporation
Steering: McLaren power-assisted
Instruments: McLaren Electronic Systems
Paint solutions: AkzoNobel Car Refinishes using Sikkens products
Transmission
Gearbox: McLaren-moulded carbon-fibre composite. Integral rear impact structure
Gears: Seven forward and one reverse
Gear selection: McLaren seamless shift, hand-operated
Clutch: Carbon/carbon, hand-operated
Lubricants: Mobil
Engine
Designation: Mercedes-Benz FO 108Z
Configuration: 2.4l 90° V8, naturally aspirated
Maximum rpm: 18,000
Piston bore maximum: 98mm
Number of valves: 32
Fuel: ExxonMobil High Performance Unleaded (5.75% bio fuel)
Spark plugs: NGK racing spark plugs specially designed for Formula 1
Lubricants: Mobil 1 - combining greater performance, protection and cooling with increased economy and lower emissions
Weight: 95kg (minimum FIA regulation weight)
KERS: Supplied by Mercedes-Benz with engine-mounted electrical motor/generator. Integrated energy storage cells and power electronics
---
---