New front wing for Lotus E20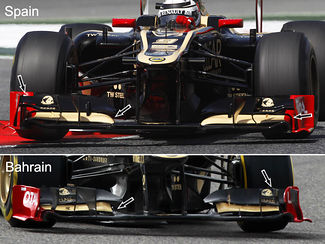 Lotus continues its intensive development programme at Barcelona by introducing a new floor, along with this updated front wing. Compared to last year, where Lotus found many updates not working on its car, it seems the team is back on the right track by pushing developments at every venue so far this season. Part of this is thanks to some testing in the Windshear facility in the USA, which Eric Bouillier dubbed as a certain improvement in the development process of the car.
The updates introduced at Barcelona are the first results of that programme.
The front wing itself features some interesting changes, again most of them aimed at controlling airflow ahead of the front wheels, rather than create frontal downforce. The outer edges of the front wing have been crucial ever since the wide front wings were re-introduced in 2009, and Ross Brawn repeatedly declared that controlling the outwash due to the particular design of endplates was one of the most important elements of the success of the BrawnGP BGP001 car.
To better manage this, Lotus' new front wing features a stacked element that reaches onto the most out element of the endplate, while immediately ahead of the front tyre it is clear the downforce generating elements on the front wing are curved down to be part of the endplate itself.